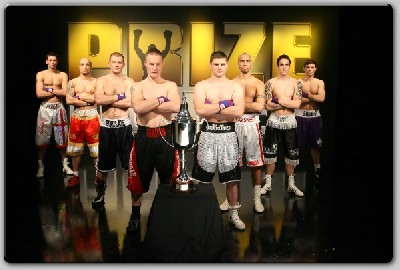 © Lawrence Lustig
Prince Arron is confident his height and reach will see him cause an upset in the Prizefighter Light-Middleweights tournament at the York Hall in Bethnal Green on Friday, February 26.
The Droylsden fighter, whose real name is Arron Jones, is aiming to win three, three round bouts in one thrilling night of boxing and bank the £32,000 prize money live on Sky Sports.
The 22–year-old is one of the underdogs to win the eight-man tournament that features former British and Commonwealth champions.
But he said: "I'm very tall for a light-middle, 6ft 3inches, and I might go up to middleweight when the time is right. My height will be an advantage for this competition.
"As a boxer I'm tall and rangey with fast hands. My height and reach will cause anyone problems. There's a lot of experienced boxers in this but anything can happen over three rounds.
"I also think the three round format will help me because I like to box. I'm not long out the amateurs and that could also help. I've got a good jab and I'm going to use it."
Arron, who only had 12 amateur bouts before turning pro in 2006, rates his best moment in boxing so far as his British Masters Middleweight Title triumph over Peterborough's Cello Renda after ten rounds in 2007.
Renda went on to reach the Prizefighter Middleweight final in 2008 and Arron is taking confidence from that win ahead of his own Prizefighter campaign.
He said: "It was great for me to beat Renda when I was 19 and a natural light-middle fighting a middleweight. Cello went on to reach the Prizefighter final and then won an eliminator for the British title last year, so my win over him shows what I'm capable of. He probably only won two rounds of our fight but he then nearly won the Prizefighter.
"I've had a couple ups and downs in my career but since moving to trainer Bob Shannon it has been like a new lease of life for me."
Arron hopes a good display in the Prizefighter will set up a rematch with Birmingham's Max Maxwell after being left unhappy with a draw in December.
He said: " I got robbed against Max Maxwell. It was never a draw."