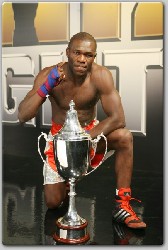 Herbie Hide believes winning Friday's Prizefighter will be the perfect preparation for a shot at the WBC cruiserweight world title.
Hide, 38, is one of eight men competing in Barry Hearn's latest Prizefighter event – Cruiserweights II – at the York Hall in Bethnal Green, east London.
A former WBO heavyweight champion, Hide is clear favourite to win but has the most to lose, although he insists it was an easy decision to enter.
"Why am I in Prizefighter? "Well, it's because I'm a warrior – a gladiator," said Hide, who has won 48 of 52 fights, 43 inside the distance.
"I'm number two in the rankings for the WBC title and my promoters in Germany have put me back. But now Giacobbe Fragomeni is fighting Krzysztof Wlodarczyk for the vacant WBC title and the winner should fight me, but that could be in another three or four months.
"Going in Prizefighter is a warm-up fight for me before I fight for the world title. Everything you do in life is a risk and in boxing there have been fighters who are number one and take a warm-up fight and get beaten. Champions take non-title fights and lose them but I believe I'm the best cruiserweight in the world.
"At this stage of my career I can't be concerned about losing. I believe I'm the best so I will just go out there and do what I have to do."
The rest of the contenders include former Commonwealth champion Darren Corbett and Mark Krence, who has fought for the British heavyweight belt.
As always, the Prizefighter line-up features a number of inexperienced prospects and Batley's Zahid Kahut, winner of four of his five professional fights, believes Hide should not have entered.
"Everyone is talking about Herbie Hide being the huge favourite and, with a record like his, how can he not be?" said Kahut. "But I think he's making a big mistake entering this tournament as he already had a title shot around the corner.
"With his suspect chin and the unknown quantities that are in this tournament, I think he's really putting it all on the line.
"If he wins then good luck to him as he would've taken a risk and it would've paid off. But I really believe he's not going to win and someone will knock him out."
The full list of contenders is: John Anthony (Doncaster), Wayne Brooks (Cardiff), Darren Corbett (Belfast), Jon-Lewis Dickinson (County Durham), Herbie Hide (Norwich), Zahid Kahut (Batley), Mark Krence (Chesterfield) and Leon Williams (London).
The draw for the quarter-finals is Krence v Kahut, Williams v Dickinson, Anthony v Corbett and Brooks v Hide.
Tickets cost £35 and £60 and are available from 01277 359900. The show will also be broadcast live on Sky Sports 2 from 9pm.