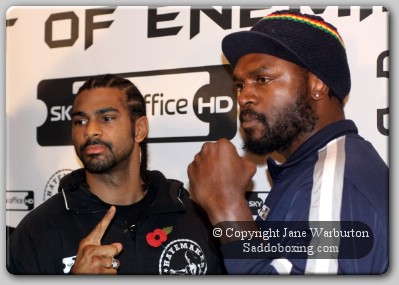 Click the above Image for more Photos
The Manchester Evening News Arena for the second time this year hosts a World Heavyweight Championship fight when the battle of Britain takes place between David Haye and Audley Harrison tonight.
For Haye, this is the second defence of the championship he won one year ago from the giant Nikolay Valuev. In his one and only defence seven months ago, he broke down and eventually stopped the veteran ex-champion John Ruiz in eight.
Apart from one defeat, Haye has known only victories in his pro career. Back in 2004 after a bright start against ex-Cruiserweight champion Carl Thomson, Haye ran out of steam en route to a fifth round stoppage defeat.
He would rebound from this defeat not only by winning a version of the World Cruiserweight championship abroad in France against Jean Marc Mormeck in 2007 he did it by surviving an early knockdown before stopping his foe. He would then unify the titles by stopping fellow Brit Enzo Maccarinelli in two rounds in 2008.
For Harrison, this must be his last chance at the big time. After winning Olympic Gold in Sydney in 2000, Harrison promised so much when signing a mega money deal with the BBC in 2001. Predictions such as winning a British Title in five fights never came to fruition.
He would suffer his first professional defeat in 2005 against bitter rival Danny Williams in a dull fight and seemed to going nowhere, losing his very next fight against Dominick Guinn when he relocated to the States in 2006.
Harrison seemed to resurrect his career later that year when gaining revenge over Danny Williams with an impressive third round stoppage before the wheels came off again in his following fight against another Brit in Michael Sprott. After suffering another defeat to the tough Martin Rogan, Audley would appear all but done.
The Prizefighter tournament in 2009 offered Harrison an unlikely lifeline. The tournament which comprised a knock out tournament of 3x3 rounds seemed right up Harrison's street and he grabbed this chance with both hands, winning the tournament to revive his pro career.
Harrison nearly blew it when behind against old foe Michael Sprott but rallied to score a knockout in the 12th and final round to secure his big chance.
Many are seeing this as a business decision for David Haye. With fights against either Klitschko a virtual no go, this, to be honest, is the biggest fight he could come up with. However, if you dig a little deeper you can see an intense rivalry between the two.
This is a fight which is being billed as the best of enemies. Once good friends, events over the years have fueled ill feeling.
For all Harrison faults which he as shown in his pro career, in this one he does have a genuine puncher's chance. Who would have believed one would be saying this in 2010 after the many lacklustre showings the former Olympic Champion has put us through?
Haye, as he will freely admit, can be caught but unlike Harrison, it never seems to affect him mentally. One could argue that none of Audley's shortcomings have been physical. At 6 foot 5 and over 240 pounds, why should they?
The anticipation of this fight is the one question. Can Audley catch Haye? Haye for me will be the busier fighter and has the advantage in speed. Will he even let Harrison pull the trigger? Will Audley, like the Sprott fight, fall behind on the scorecards? The feeling I get is that while many people gave Harrison no chance, as the fight draws closer, people are beginning to sway towards him.
I hope the Harrison who can bang with the ferocious left hook shows up. Don't forget, he also showed the heart that many people thought he lacked against Sprott, winning the fight after not only being behind but also injured.
However, with all this being said, if Haye is 100% focussed then I can only see one outcome. Hayes quickness and handspeed won't allow Audley to get any leverage behind his punches. Haye is beatable, but I dont think Audley is the man to do it
Its an intriguing matchup, but one I feel Haye will win by about the seventh round.