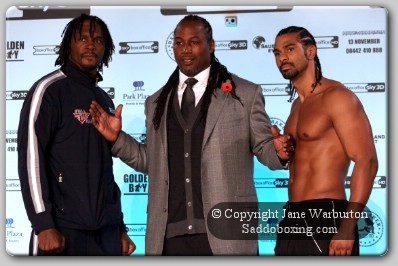 Click the above Image for more Photos from the Weigh In
Yesterday, at The Lowry, Salford Quays, England, fans gathered to see the official weigh-in ahead of tonights World Heavyweight Title clash between David Haye and Audley Harrison.
The under-card weighed in first. But as Audley Harrison and David Haye entered the weigh-in area (from opposite entrances) – the waiting crowd began to cheer. Haye's t-shirt bearing the words 'NO YOU CAN'T' in bold letters, prompted the crowds to chant "YES YOU CAN" (Harrison supporters) and "NO YOU CAN'T" (Haye fans). Both boxers joined in, encouraging the crowd to shout.
Harrison was first up on the scales, weighing in at 18 stone 1 and a half pounds.
A confident Haye 'posed' on the scales to show off his toned physique. He tipped the scales at 15 stone and half a pound (roughly three stone less than his opponent!)
As they posed for the usual 'Face-off' photographs, Former undisputed World Heavyweight Champion – Lennox Lewis – stood between the two men supposedly keeping them apart, but there was no pushing or shoving from these two who just looked coolly at each other while Harrison nodded.
Undercard:
BBBofC British Bantamweight Title
Stuart Hall (Darlington) v Gary Davies (St.Helens)
Davies was three quarter of a pound over at the first weighin but returned to come in on weight.
Commonwealth (British Empire) Super Middleweight Title
George Groves (Hammersmith) v Kenny Anderson (Edinburgh)
Groves wore his trilby hat for the occasion (keeping it on during the weighin). As they stood together for the face-off photograph, Anderson knocked his hat off and pushed his forehead hard in to Groves while - Clifton Mitchell kept them apart. The action from Anderson caused some jeers from the crowds but Groves looked unfazed by it – smiling as he walked away.
Welterweight Contest
Mark Heffron (Oldham) v Chris O'Brien (Burnley)
O'Brien caused a laugh when he emerged wearing 'Spongbob Square Pants' boxer-shorts!
Also weighing in :
Heavyweight Contest
Colin Kenna (Southampton) v Edmund Gerber (Schwerin, Germany)
International Cruiserweight Contest
Enad Licina (Germany / Serbia) v Felix Cora, jr (Galveston, Texas)
The 'Best of Enemies' Fightnight is screened live on Sky Box Office from 8pm tonight.