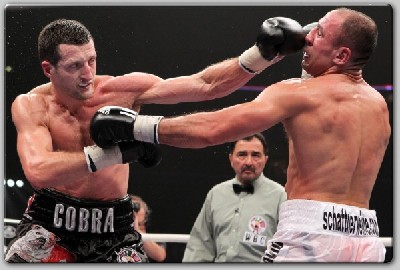 © Tom Casino / Showtime Boxing
Last evening was another great night of fights among the 168lb elite. First up in Helsinki, Finland's Hartwall Arena was Carl Froch facing Arthur Abraham in his quest to advance into the next round of the Showtime Super Six Tournament.
As an added bonus, the vacant WBC Super Middleweight title was on offer, which Froch once possessed until his close loss to Mikkel Kessler in April of this year.
The belt had been vacated by the Danish fighter due to needed eye surgery and a break afterward to recover, making this bout even that much more desirable to win for the "Cobra". Froch, known for his pre-fight hype talk, lived up to every claim he made prior to the showdown with Abraham.
It was clear from the outset that Froch wanted little to do with taking a chance at a close decision loss, causing him to go to work immediately. Using his reach and moving around the ring, Froch had taken a page from Andre Dirrell's handbook by not engaging toe to toe with Abraham and using pure boxing.
While Froch is primarily known for his brawling style, he is adapt at being a pure boxer if need be, something he has stated many times in the past but we the public have seen little of. Viewers were treated to the side of Carl that up until now had been just talk.
It became clear by mid-fight that Abraham had been taken out of his game. Froch, who did homework in preparation for this bout, moved around the ring in a fashion that had his detractors open mouthed with awe. On rare occasion, he would trade with the former IBF middleweight kingpin but would then pull himself away, not taking chances by fighting his usual style or testing Abraham's strength for any lengthy amount of time.
As the middle and later rounds passed, Abraham's face began to show his lack of ability to land a meaningful shot to slow the pace Froch had set to something more comfortable.
When the bout ended, there was zero doubt as to who had won the affair. Scores of 109-119, 120-110, 120-110 in Froch's favor solidified what those watching already knew, giving him the win and returning his WBC Super Middleweight title belt, making Carl a world champion for the second time.
After the bout, Froch was surprisingly and extremely humble, giving Abraham all the respect in the world while admitting that they had trained to avoid Arthur's power. Froch stated he had worked with several top British amateur fighters to help him with a stick and move style, admitting that it has been a problem for him in past bouts when he was not using the whole ring to his advantage.
When asked about Glen Johnson, his next opponent in the Super Six tournament, Froch replied "I have watched Glen Johnson for years, I know what he brings to the table. He may be getting older, but he is still to be respected and to take him lightly would be foolish".
Froch also stated it was going to be an honor to fight a man like Johnson, who is a true professional and made no predictions.
Carl Froch improved his record to 27-1 (20), while Abraham's record changed to 31-2 (25). It was the second loss in Abraham's career and also consecutive as he had been disqualified in his previous bout last March against Dirrell for hitting when his opponent was downed.