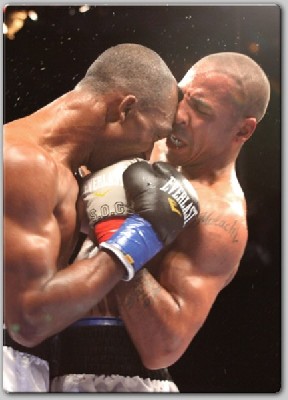 © Rich Hundley III / Showtime Boxing
In non Super Six action at the Oracle Arena in Oakland California, Andre Ward defended his WBA Super Middleweight belt against tough Sakio Bika, a fighter who has a reputation of being avoided due to his wild and rough fighting style.
Bika, who has had two prior opportunities to become a super middleweight world champion, once in May of 2006 when he faced Marcus Beyer for the WBC version in a bout that ended with a TD due to a cut under then champion Beyer's eye in the fourth round.
Just five months later he was given the opportunity to claim the WBO/IBF versions of the belt when he met then divisional king Joe Calzaghe. In that bout, he gave Calzaghe all he could handle including some scares with his aggressive style but at the end of the night lost his bid against the Welsh Dragon by unanimous decision.
With new trainer Ronnie Shields in his corner for this bout, Bika stated prior to the fight he had never worked so hard to prepare for an opponent and this would be the last time you watched him as a "Challenger" because after the night's end he would be a defending champion.
It seemed to be the theme of the night with fighters having to do exactly what they would not on a normal basis when Ward and Bika squared off as Ward, like Arthur Abraham against Carl Froch earlier in the evening was subjected to a style he was not comfortable with.
Andre was in for a tougher night then even his team predicted, regardless of knowing Bika's style from years of watching him as a professional. Ward realized by end of round one that seeing on tape and actually having to deal with what you studied were two separate things.
Bika, who has an infamously awkward style along with a reputation for being overly physical in his use of elbows and headbutts, seemed to be getting the better of Ward early on. When the third round started, you could visibly see on the face of Andre that he was becoming slightly frustrated with the way Bika fought.
But Ward, who has developed a bit of a reputation himself for his in ring abilities, did exactly what that reputation had been built on by and that is adapting to his man. In each of Ward's two previous bouts, he had opponents in front of him that did things he had not dealt with as a professional.
Mikkel Kessler, the man Ward won his title from back in November, 2009, was a combination puncher who had more professional experience then Andre in both title and non-title bouts but found out that Ward could adapt to him after a few rounds of adjustments to his timing.
Allan Green, the man Ward faced in his first title defense, is a hard puncher who likes to be in control of his man, but was forced to be the one who was controlled when Ward decided to turn the tables on him by becoming the aggressor. Like many come forward fighters, Green cannot fight off the ropes or going backward, and once Ward figured that out, it had become an easy night work for him.
Bika was yet another man Ward had to adjust to in the ring, but unlike his bouts with Kessler and Green, at no point in time was Ward able to dominate Sakio. By the mid way point, this had turned from a boxing match into a pure fight and that is exactly what Bika had hoped for.
As the sixth round began, there had been back and forth action that was too close for anyone to call definitively. Ward had been cut by an accidental headbutt over the right eye, and just one round later the left eye was cut, although this one was caused by a punch.
Instead of falling apart, Ward used this as energy, coming out of his corner to begin the ninth round with fire. Ward had taken everything Bika had offered him thus far; fans in Oakland were on their feet for the two warriors that never stopped going at it and never taking a moments rest during the rounds.
The younger champion pushed the action harder then he had in any previous outings and when the championship rounds began, Bika was starting to show some fatigue. Ward appeared the fresher man, knowing things turned his way but continued to stick with the style that he had become accustomed to this bout. In short, he was beating Bika at his own game.
The final round was one that had back and forth action as Bika knew he was behind on the cards but was unable to make the desperate rally needed to win the bout.
After the bell sounded, Ward was announced the winner by scores of 120-108, 118-110 and 118-110. Ward had clearly won the bout due to his performance in the championship rounds, but it was a bit of an oversight in margin as Bika had fought a much closer bout than the scores reflected.
The Super Six tournament will continue on as Carl Froch faces Glen Johnson in the semi-finals thanks to the Englishman's win over Arthur Abraham and Ward will face off against Abraham in the semi finals due to points standings.
Showtime put on a high quality night of action that deserves praise in its continued efforts to bring fans quality over quantity. Ward deserves praise for the fact he defended his belt against a tough opponent in Bika when he by all rights did not need to step in the ring after Andre Dirrell, Ward's scheduled foe, was forced to pull out of their proposed bout due to an injury suffered from his meeting with Abraham last March.