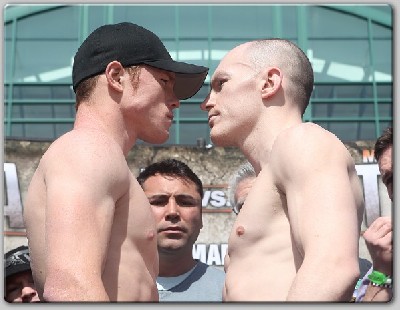 © Tom Hogan - Hoganphotos
Tonight at The Honda Center in Anaheim, California, 'Magic' Matthew Hatton 41-4-2 26 KO's, takes on Saul 'Canelo' Alvarez 35-0-1 26 KO's, for the vacant WBC light middleweight belt.
This will be the first world title shot for both fighters, and probably Hatton's last. Hatton has had a hard career, with his fair share of ups and downs, and the high point, so far, being his European title victory beating of Gianluca Branco in early 2010.
Alvarez, on the other hand, has had things pretty much his way. His only blemish on record is a draw very early in his career, and last year he was wobbled against tough contender Jose Miguel Cotto, albeit having regained composure, Alvarez put Cotto down in the second, and finished him in the ninth.
Hatton has often been overlooked as nothing more than an opponent with a famous brother and a famous last name. The truth of the matter is Hatton may not be the most beautifully gifted boxer in the world, nor is he a knockout artist, but he makes up for that with work-rate, determination, steely resolve and a good chin.
For someone who is perhaps not the most talented fighter, he has accomplished a great deal with the tools he does have at his disposal.
With some early hiccups on the record, his 14th and 16th fights he lost, the former on points, the latter by TKO. He continued to climb the domestic ladder whilst big brother Ricky shot off into big money fights and world title shots.
After a while, Matthew got his shot at an eliminator for the British title against Alan Bosworth. Hatton was disqualified in the tenth round for repeated low blows.
Six fights later, May 2008, he lands himself another title shot against Craig Watson, a smooth operator, for the Commonwealth welterweight belt. Hatton was well and truly beaten in nearly every round, Watson was too silky and Hatton looked like he was away with the fairies for a lot of it.
That was his last loss, since then Hatton has taken on big brother's old foe Ben Tackie, who is no pushover by any means, and beat him soundly.
This was followed by a clash with veteran puncher Ted Bami, who Hatton stopped in six. Soon enough another shot presented itself in the forms of an IBO welterweight title against seasoned veteran Lovemore N'Dou.
After a hard, close fight the decision was a draw. That night the look of disappointment on Hatton's face, who in my opinion just did enough to take a split decision, made me question whether we would see him in a boxing ring again.
However, I was wrong as it was announced that he would face Gianluca Branco for the vacant European title. Branco was a good fighter, maybe just struggling at world class, but dangerous and a good operator. Another close fight followed, but the victory was Hatton's.
Add to that two defences of the title, against very highly regarded opposition, Yuriy Nuzhnenko, 30-1-1, and Roberto Belge 25-0-1, winning the former on points, latter by stoppage with a great body shot, and you have a very ready, willing and able Hatton who feels that this is his only chance to grab that world title.
With the chances that have been and gone in the past for Hatton, I sincerely believe that he will come to win and that he will try his utmost to take that title. The problem he has here is the guy standing opposite him.
Alvarez is the new face of Golden Boy Boxing. He is aptly and affectionately called 'Canelo', which translates to cinnamon, thanks to his bright red hair and freckled complexion. At 20 years old, he is Hatton's junior of nine years, and has almost had as many fights as Hatton, and his KO percentage is 72% as opposed to Hatton's 34%.
Being younger, Alvarez obviously started his career at an earlier age than Hatton, and as mentioned, he is undefeated.
Alvarez has breezed through the majority of his career and recently showed off how he was…maturing, with his stoppage of Carlos Baldomir. Baldomir is well known for being incredibly durable and tough, and many were speechless when Alvarez left him face first on the canvas.
No, Baldomir is not an amazing boxer, but only once had someone been able to do that to him and that was in his sixth fight.
Alvarez is extremely powerful, and accurate. He does not waste effort or punches when they are not needed. Patience is another rare quality in a fighter of his age.
The only common opponent between Alvarez and Hatton is Lovemore N'Dou, and Alvarez boxed circles round him, winning every round.
Alvarez really is looking like a complete package, and this time it is not just a hype job. This kid is really, really good. Although Hatton is not chinny, he has been put down a couple of times, nothing of note. Then Baldomir was not particularly chinny either, until he met Alvarez.
It would be a great part of the story if Hatton did win. He is no less deserving than anyone else at the weight, he has grafted years and years into this sport and it would be nice to see him get the reward out of it. However, Alvarez is no less deserving either and it seems to me that although Hatton will come to win and there will be an entertaining fight in there, Hatton will give no quarter, until it is taken.
Should be good while it lasts, but Alvarez is too sharp, too strong, too precise and he stops Hatton in the middle to late rounds.