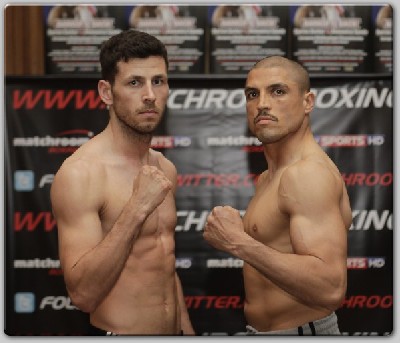 © Lawrence Lustig
Darren Barker takes on Domenico Spada on Saturday (April 30) at London's Olympia for the vacant European Middleweight title – and is ready to re-launch his career after a year out of action.
Barker returns to Sky Sports for the first time since beating Affif Belghecham at Alexandra Palace on April 9 2010 to claim the title he fights for tomorrow night. A hip injury forced the 28 year-old to withdraw from a highly anticipated match with Matthew Macklin in September and vacate the belt.
The Barnet man has had an operation on the troublesome joint and is fully fit to face the tough Italian, where a win would see him reclaim the European strap, extend his unbeaten run to 23 fights and propel him into World title contention.
"I'm really excited to be back – it's been a long, frustrating year for me," said Barker. "I've been training really hard and I am looking forward to getting back in there.
"This is my breakthrough year now – Spada is a very experienced opponent and it shows what direction I want to be heading in and where I want to be, I'm chasing this World title shot and he's who I need to fight.
"I've seen a lot of him now, he's a come forward opponent who is aggressive and knows his way around the ring so he'll definitely give me a few rounds to brush off any cobwebs that I've got."
Much has been made of the rough year that Barker has endured, but the man himself is keen to look to draw a line under both the injury problems and concentrate on his future under new promoters Matchroom Sport.
"You either get on with things or sit in the corner, lock yourself away and whinge," said Barker. "I had to have surgery – it's been done and my body is better than it's ever been so I'm looking forward to getting in there and showing the boxing public what I can do.
"The most important thing is to win – I'm not one to make predictions. I'll stick to my boxing, go out there and do what I do best because this fight can catapult me into the world scene."
12 x 3 mins Vacant European Middleweight Championship
Darren Barker (11st 5lb 15oz) v Domenico Spada (11st 5lb 1oz)
8 x 3 mins Flyweight Contest
Ashley Sexton (8st 5lb 7oz) v Mike Robinson (8st 5lb 2oz)
6 x 3 mins Middleweight Contest
Patrick Mendy (11st 5lb 15oz) v Paul Samuels (11st 5lb 15oz)
4 x 3 mins Light-Welterweight Contest
Chris Evangelou (10st 2lb 5oz) v Ibrar Riyaz (10st)