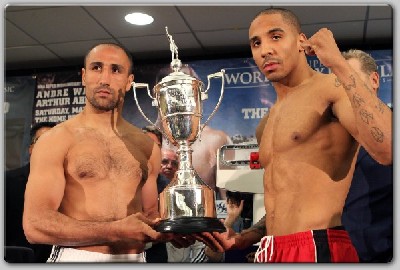 © Tom Casino / Showtime Boxing
Tonight at Carson, California's Home Depot Center, WBA super middleweight champ Andre Ward defends against challenger Arthur Abraham as part of the ongoing Super Six Tournament.
Ward is coming off a rough and tumble affair with hardened veteran Sakio Bika in November, and that clash was probably the perfect warm up bout for this evening's test against Abraham.
Undefeated at 23-0 (13), Ward will face a seasoned ex-IBF middleweight king in the form of Abraham, who, like Bika, will bring pressure and wild swings to the party at the Home Depot Center.
Abraham, 32-2 (26), saw a return to form in his most recent outing, a good scrap in February with ex-WBA super middle title challenger Stjepan Bozic that was cut short when Bozic retired in the second with a hand injury.
In that contest, Abraham showed greater use of the jab than on his 2010 defeats against Carl Froch and Andre Dirrell and he'll need to use that punch early and often if he is to have a chance against Ward.
Ward goes into tonight's fight with advantages over Abraham in nearly every department; size, speed, youth, mobility, quickness, skill and reaction time.
But the qualities he'll need most is patience and focus as Abraham almost always starts very slowly and wears opponents down over the rounds, producing most of his knockouts in the later frames.
Ward has proved adaptable to many situations since overwhelming Mikkel Kessler for the title two years ago and he should be able to follow the basic Froch plan of fighting Abraham, disrupt with the jab, leap in with a few hard shots while "King Arthur" covers up and get back out before the return fire comes.
Abraham will likely find Ward less cautious than Froch and that should give the German based Armenian slugger more chances to land but Abraham must not simply walk forward with gloves in a defensive position but use the jab to carve a way inside and once there, go to Ward's body.
Ward will almost certainly win the first half of the bout on activity alone, the real action will take place in the later frames when the pair are too tired to do anything but go toe to toe.
For Abraham to win, he'll have to overcome Ward's speed with timing and set up shop on the inside, never giving Ward room and punishing the body to expose the head to the big roundhouse punches the former IBF middleweight boss favors.
For Ward to win, he'll have to work hard every round, keeping Abraham on the defensive with a lot of offense and on the outside with constant foot movement. He'll need to throw with authority to take Abraham's confidence away, staying off the ropes and away from the trenches.
Ward should have everything he needs to walk out of Carson with the WBA belt still around his waist but nothing is ever certain in the ring.