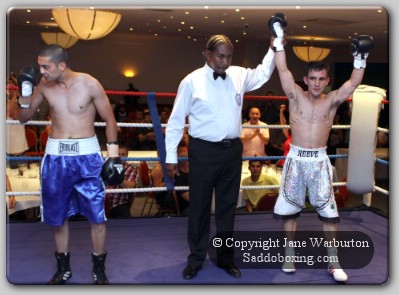 © Click the above photo for more images fromthis event
Last night, at the Park Inn Hotel, Northampton, First Team Promotions (PJ Rowson and Errol Johnson) hosted a Boxing Dinner-Show which would feature three bouts from local boxers and then show the Klitschko v Haye Fight on a big TV screen.
Thankfully the third / last contest didn't go the distance (as we were itching to watch the televised fight which was just about to start!)
It was a great and lively atmosphere and the screening of the Fight in Hamburg proved a real success (although the result wasn't what everyone wanted!)
It was also to be Harry 'The Fox' Foxall's last show as Timekeeper. After many years of keeping time and sounding the bell at hundreds of fightnights – the Stoke-on-Trent man has taken his retirement. He was presented with a framed award by officials and congratulated by the Shows Promoter – Paul (PJ) Rowson and M.C. Noel Ennis.
Ashley Lane (Northampton) v Ryan McNicol (Glasgow, Scotland)
4 x 3 Feathweight Contest
'Unstoppable' Lane faced McNicol for his second pro-fight having fought the same boxer on his debut in April. Then, Lane sustained a cut to the right eye by a clash of heads and the contest was deemed a Technical Draw. Lane must have thought it was deja-vu when he suffered a cut to the right brow in the second round against McNicol again (must be an unlucky round for him!). Referee Jeff Hinds gestured to the ringside officials that this was caused by a punch and McNicol looked to sigh with relief in his corner (!) The cut wasn't bad and Lane 'got on with it' finding success with the left against the tough Glaswegian.
Lane gets the points win (40-36) – his record now stands at 1 win and 1 draw, while McNicol drops to 2 wins 9 losses (1 by KO) and 2 draws.
Liam Daly (Northampton) v James Tucker (Doncaster)
4 x 3 Light Heavyweight Contest
Daly secured a points win (40-36) over experienced Tucker. A good contest with both men providing the action. Daly landed a couple of decent body-shots in the third round and seconds later Tucker stumbles over but it's a no knockdown. Daly finds success with the right to get his third pro-win.
Daly improves to 3 wins no losses, while Tucker drops to 3 wins (1 by KO) 40 losses (2 by KO) and 3 draws.
Nathan Reeve (Northampton) v Salim Salimov (Bulgaria)
6 x 3 Super Bantamweight Contest
'Cotton Boy' Reeve found success with the body-shots again to secure a third round knockdown over Bulgarian Salimov.
Reeve improves to 4 wins (2 by KO) while Salimov drops to 2 wins (2 by KO) 8 losses (3 by KO)