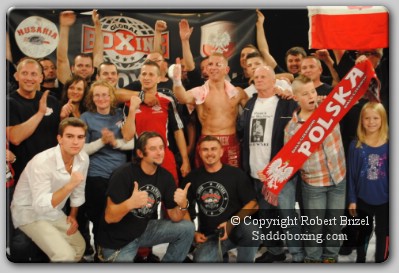 In one of the bloodiest and exciting ring wars ever fought in the Atlantic City hotel casinos, Polish middleweight Patrick Majewski, fighting nearly blind at times with blood from both eyes fought on with heart and instinct to win a ten round majority decision over Latif Mundy in a rematch war. The bout took place at Resorts Hotel and Casino Superstar Theater in Atlantic City, New Jersey, on Saturday evening, September 29, 2012, promoted by Peltz Promotions and Global Boxing.
The two fighters have now gone at it in center ring bloody toe-to-toe for 18 consecutive rounds, with the crowds on their feet. In the rematch, Majewski's NABF Middleweight title was not at stake. Owing to the bloody outcome, Majewski's next bout, scheduled for Poland, will be delayed.
The flow of blood can often confuse judges and make a bout difficult to score. How one judge can score Majewski-Mundy II 95-95 and another 100-90 speaks of a fight bordering on the insane, and the bout emerged as just that due to a head butt which occurred somewhere in the early rounds. The spectacular matchup became a psychological test of will, strength, and courage for Majewski, who knew Mundy had come to win, and was going to test his chin and heart to the final bell.
Majewski won the first round, coming forward and working the left jab often, with Mundy looking to counter with body shots, with limited effectiveness. Both fighters carefully looked for punch scoring opportunities but appeared careful not to punch themselves out. The second round went to center ring, where Mundy came forward and mixed his punches well, forcing Majewski to land jab combinations while moving side to side. Some of the punches went low from both fighters as the bout turned dirty. Referee Benji Esteves Jr. warned both fighters throughout the contest.
By round three, the bout had turned into a center of the ring bombs away slugfest. Mundy, now 10-5 (4), Philadelphia, Pennsylvania, is better than his record indicates; he made style corrections to bring the ten round bout to the inside to neutralize Majewski's height and reach advantage more so than before. Majewski landed straight lefts from distance range, and occasional left and right hooks mixed with body combinations whenever the two fighters got close. Majewski won the round, with Mundy undaunted and still moving forward fearlessly looking for counter punch opportunities.
By the fourth round, it was evident that an accidental clash of heads had produced a deep cut on the corner of Majewski's left eye. As the bloody was flowing into the eye, Majewski had to keep wiping the blood away with his gloves while still defending himself. Both fighters soon became drenched in red blood, with Mundy's white trunks now appearing red.
As the bout turned into a blood fest, Majewski could no longer fight from the outside. Majewski fought on by instinct and won the round by punch volume with jabs to the head and body of Mundy, who threw hooks in close and tried to work the cut. The local Atlantic City crowd went wild on its feet cheering for Mundy, seeing blood and smelling a major upset in the making, while an equally boisterous Polish crowd in the house cheered in Polish for Majewski to have heart and stay strong. Thus the noisy bout was not stopped to go to the cards.
Majewski's corner had a rough time stopping the flow of blood in the first half of the bout, a bad situation worsened by a second cut on the corner of the Majewski's right eye. The left eye was worse, and provided a juicy target for Mundy in round five, who threw overhand left and right power punches with evil intent, chasing the cuts. Majewski missed or held, now too blinded by the blood and confused. He desperately fought on while trying to wipe the nonstop flow of blood into his left eye.
The sixth round was a disaster. Majewski tried to take the fight to the inside, but could not see well enough to defend against Mundy's power left and right counter punches over the top. Now appearing practically blind, Majewski could do little more than hope to survive the round and hope his corner could stop the profuse flow of blood. The ring floor now looked like the Red Sea, with ringside officials, photographers, and Mundy all either covered or stained with Majewski's blood.
Majewski's heart was tested to the limit as round seven began, with blood all over the place again as the toe-to-toe war moved around the ring in a telephone booth. Majewski could do nothing to stop Mundy's bombs and was forced to trade power punches with him. Majewski won the round by the volume of punches thrown. Mundy cleverly threw and landed punishing uppercuts on the inside, attacking Majewski's cuts from a different angle, making his bid to get the fight stopped.
By round eight, Majewski's corner had done a better job controlling the cuts on both of his eyes, and Majewski threw overhand rights to the head and lefts to Mundy's body. Mundy landed counter lefts though, and was successful in getting Majewski's bloody eye cuts open again, with Majewski's nose and face covered in blood. He continued fighting on instinct and heart. As Majewski remained competitive and was consistently throwing punches, referee Benjy Esteves Jr. let the bout run, particularly since both fighters were trying very hard and not holding.
Mundy began to tire in round nine. Majewski threw lefts and rights to the head in center ring and tried to put Mundy away. Mundy survived, and counterattacked with overhand lefts to work the cuts, left hooks to the body, and leaned on the inside, giving the half blind Majewski less of a target and difficult punching angles.
Both fighters went toe-to-toe in center ring in the tenth and final round. Neither fighter seemed bothered by the bloody mess their war had created at this point. Both fighters showed superior conditioning, and although Majewski won the bout, the bout was closer than two of the scorecards indicated. The bout could easily have been stopped at any point in Mundy's favor, or could have gone to the scorecards due to the head butt. Both fighters embraced each other with a great deal of respect for the other's abilities after this contest.
Promoter Mariusz Kolodziej of North Bergen, New Jersey, founder of Global Boxing, and ring announcer Dean Stone, looked at the bloody red corner towel of Majewski after this bout, which is a good candidate for Atlantic City Fight of the Year in 2012. It would be hard for the promoter to ignore the red towel's symbolism of the brutality of the ten round war, and the consequences felt as a result.
According to Kolodziej "We (Global Boxing) had planned for Patrick to defend his NABF middleweight title on November 23 this year in Poland on my next card over there, but we'll have to see how deep the eye cuts are. Our doctors must now determine if the NABF defense is doable in less than two months. My heavyweight Mariusz Wach is fighting Wladimir Klitschko for the world heavyweight title in Hamburg, Germany on November 10, 2012."
Kolodziej continued, "Two other Polish kids who won on the undercard tonight here in Atlantic City, Patryk Szymanski and Michal Chudecki, will also appear on the Hamburg undercard. If Patrick Majewski does not fight on the November 23 card in Poland, we (Global Boxing) have another card in Poland he can fight on in January 2013 if he is cleared to fight by then. We will see."
Result: Patrick Majewski MD 10 Latif Lundy, Middleweights
Scoring: 95-95, 100-90, 98-92 Majewski
Referee: Benji Esteves Jr.
On the undercard, in a battle of Atlantic city young and old, 21 year old DeCarlo Perez ended the career of former welterweight contender Shamone Alvarez with a third round stoppage. Alvarez came out quickly, moving forward fast and landed a power left to the head of Perez on the ropes and looked to close the show. But the bout slowed in center ring, where Alvarez tried to slug it out toe-to-toe standing in front of Perez and lacked the speed or power to keep up the pace.
Despite the urging of his trainer Arnold Robbins to keep moving, but Alvarez stood in front of Perez and offered the other fighter a free target-when he should have been jabbing, moving right and staying away. At age 25, with his fourth consecutive loss, the career of local Atlantic City favorite Alvarez appears over. Perez openly cried over what he had done to local hero Alvarez after this bout. The once vibrant legs of Alvarez appeared to be gone and his movement went with them. The sad result appeared to be more the case the 21-6 Alvarez had nothing left, rather than what the 8-2-1 Perez did to win. The bout was fought at junior middleweight, too heavy for welterweight Alvarez.
Undercard Results
DeCarlo Perez TKO3 Shamone Alvarez, Junior Middleweights (2:01)
Patryk Szymanski W4 Adrian Wilson (debut), Welterweights
Anthony Prescott W 4 Terrell James (debut), Welterweights
Emmanuel Colon TKO4 Hasan Young, Junior Welterweights (2:23)
Michal Chudecki (debut) TKO3 Moses Molina, Junior Lightweights (1:55)