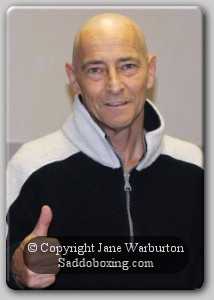 A host of boxing notables will be giving up their time on Tuesday to attend a huge Fundraiser for Cancer sufferer – Andrew Millwall.
Popular Andrew was diagnosed with an incurable and inoperable form of lung cancer earlier this year but has continued to work tirelessly on the WWBPL (Worldwide Weekly Boxing Prediction League) which has become hugely popular.
Andrew also helps boxers to sell tickets and his messages of congratulations and birthday greetings are on Facebook daily.
His work has not gone unnoticed and – hearing of his illness – Jane Couch MBE set about organising a fundraiser. The event is sure to be a fantastic afternoon for any fight fan.
There will be attendances from Tyson Fury, Frankie Gavin, Jamie Moore, Wayne Alexander, Steve Bunce and Steve Lillis, to name but a few. There are many more confirmed attendees and the list is growing!
There will be stalls, raffles and auctions which include items such as: a boxing glove signed by Nigel Benn, a WBC t-shirt signed by Marco Antonio Barrera, Fast Eddie Chambers signed boxing shorts, fight tickets for December shows, gloves signed by Tony Bellew, Carl Froch, Darren Barker, etc.,
There will also be photo opportunities with the pros, training sessions and pad sessions.
This is a Free event, but it's expected that attendees will at least buy a raffle ticket to support Andrew. All proceeds from the event will go to his wife.
Doors open at 12 Noon at Jon Pegg and Richie Woodhall's Gym – Midlands Boxing Academy, Bromsgrove Street, Birmingham. B5 6QB.
Auction bids can be placed before the event via Jane Couch MBE. Particularly for people interested in Eddie Chambers' boxing shorts.
For more details go to https://www.facebook.com/events/481942548504677/?fref=ts
There is also a Paypal account for anyone wishing to donate who won't be able to attend on the day.
http://www.paypal.com
Paypal name A.LIPTON
APL7779@HOTMAIL.COM