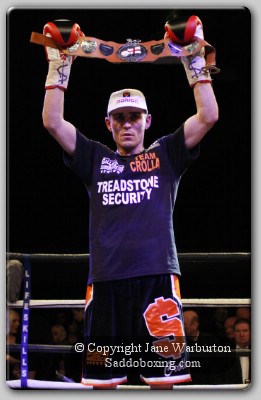 Click the above Image for more Photos from this Event
In Manchester on Friday night, a great night of boxing ended on a sad note when Heywod boxer – 'Vicious' Kieran Farrell was stretchered out of the ring after 12 hard rounds of action against Anthony 'Million Dollar' Crolla.
The much anticipated fight was – as expected – an all-action war. Farrell gave it everything he'd got and as soon as the fight ended – he collapsed in the ring. Worrying scenes followed as Doctors and medics tended to him. He was given oxygen and eventually taken from the ring on a stretcher to the waiting ambulance.
Farrell was kept in hospital for two nights to recover from dehydration and exhaustion but is expected to go home today (Sunday).
Kieran Farrell (Heywod) v Anthony Crolla (Manchester)
Vacant BBBofC English Lightweight Title
We expected this fight to be toe-to-toe all out action from start to finish and it was! Farrell – known for being wound-up like a bottle of pop (!) charged out of his corner to face Crolla. Both men were relentless throughout, throwing punch after punch. The rowdy Manchester crowd were on their feet applauding the end of each round in appreciation for the action they were witnessing. Although the pair matched each other in numbers of shots - Crolla's did look the cleaner punches. In the last couple of rounds Farrell looked to have tired. When the bell signalled the end of the contest, both men were lifted aloft in celebration, but as Farrell stood by the ropes we saw his legs start to buckle and he was manoeuvred back to his stool where he then collapsed.
Subdued celebrations from the Crolla corner followed. He wins the English Lightweight Title by Unanimous Points Decision and improves to 25 wins (9 by KO) 4 losses (1 by KO).
Farrell gets his first defeat. His record now stands at 14 wins (3 by KO) and 1 loss.
Derry Mathews (Liverpool) v Asan Yuseinov (Bulgaria)
Light-Welterweight Contest
Dirty Derry made quick work of Bulgarian Yuseinov scoring a first round knockdown. He looked disappointed not to have had a decent test.
Mathews improves to 32 wins (17 by KO) 8 losses (7 by KO) 1 draw.
Yuseinov drops to 11 wins (7 by KO) 5 losses (3 by KO) and 2 draws.
Liam Conroy (Barrow-in-Furness) v Gilson De Jesus (Nottingham)
6 x 3 Middleweight Contest
Flashy Angolan-born Gilson liked throwing the uppercuts and Conroy was caught a number of times by head-shots in the fifth round. He did well to stay upright. A close contest otherwise but De Jesus got the points win 58-57 and was visibly delighted – running across the ring shouting and cheering.
De Jesus improves to 2 wins 4 losses.
Conroy drops to 2 wins (1 by KO) and 1 draw.
Liam Hanrahan (Macclesfield) v Delroy Spencer (Wolverhampton)
4 x 3 Super-Bantamweight Contest
Hanrahan notched up his second pro-win with a fourth round knockdown of normally durable Spencer who'd already been on the canvas once in round four.
Spencer drops to 14 wins (1 by KO) 146 losses (14 by KO) and 3 draws.
Matty Clarkson (Preston) v Elvis Dube (Derby)
4 x 3 Light-Heavyweight Contest
It was (in my opinion) a much improved performance from Clarkson who seemed 'fired-up' for this one against Dube. Using decent head and body shots – Clarkson secured a points win 40-36 and improves to 8 wins (1 by KO) 1 loss and 2 draws.
Dube drops to 5 wins (4 by KO) 15 losses (2 by KO) and 1 draw
Chris Healey (Stockport) v Junior Millar (Newark, Notts)
4 x 3 Cruiserweight Contest
Tall (six foot six) Millar gritted his teeth in determination and looked raring to go at Healey from the first bell. Surprised Healey found himself on the canvas in round one and was clearly fazed by the Nottingham man's head-shots. But after three interesting rounds with Healey looking to have been completely caught off-guard by his opponent – Millar appeared to have been sapped of energy in the fourth. I've never seen anyone 'drop' so quickly. Bizarrely he looked to walk away from Healey more than once in the round. He turned away so Healey hit him and Millar went down. Referee Alvin Finch administered the count but Millar – on his knees – was counted out, then lay out on the canvas gasping. Medics gave him oxygen and he got to his feet.
Healey improves to 3 wins (1 by KO)
Millar's record stands at 1 win (1 by KO) 2 losses (1 by KO)
Ryan Doyle (Gorton) v Ignac Kassai (Hungary)
4 x 3 Featherweight Contest
A fast and furious contest – while it lasted(!) for Ruthless Ryan Doyle who's opponent was down twice in the opener and stopped by Phil Edwards at the end of the second count.
Doyle Improves to 5 wins (4 by KO)
Kassai drops to 9 wins (2 by KO) 27 losses (8 by KO) and 2 draws