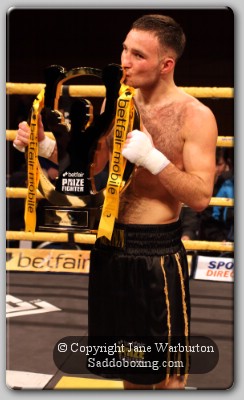 Click the above Image for more Photos from this Event
Sunderland's Glenn Foot is the newest boxer to win Prizefighter after successfully defeating Welshman Dale Evans by split decision in the final of the eight-man tournament Saturday night.
Foot had stopped local man, Steven Pearce of Stourbridge, in his quarter-final and won on points against Chad Gaynor of Rotherham in the semi's.
Aswell as lifting a new Betfair Trophy - Foot wins £32,000 plus £2,000 for stopping Pearce.
Eddie Hearn's 'Betfair Prizefighter the Welterweights III' received a great turn-out (despite the weather) at Wolverhampton's Civic Hall.
QUARTER-FINAL 1
Rob Hunt (Stafford) v Mark Thompson (Heywood)
A head-clash in round three sees Thompson sustain a cut high on the forehead but Hunt came off worse with a terrible gaping cut across the right eye-lid area which spurted blood. Referee Phil Edwards immediately took Hunt to the ringside Doctor who advised the fight is stopped. Thompson wins by stoppage round three.
QUARTER-FINAL 2
Sam Eggington v Dale Evans (Carmarthen, Wales)
Upgraded from 'Reserve' recently – popular Eggington took the place of Nasser Al Harbi, but was 'outed' in the Quarters by Evans on points.
QUARTER-FINAL 3
Chad Gaynor (Rotherham) v Callum Cooper (Birmingham)
Gaynor forced the stoppage of Cooper in round one when Referee Mark Green jumped in as Cooper was taking too much punishment.
QUARTER-FINAL 4
Glenn Foot (Sunderland) v Steven Pearce (Stourbridge)
Foot forced the second round stoppage of Pearce who was on the canvas in round two.
SEMI-FINAL 1
Mark Thompson v Dale Evans
Evans wins on points
SEMI-FINAL 2
Chad Gaynor v Glenn Foot
Foot wins on points
FINAL
Dale Evans v Glenn Foot
Foot wins by split-decision. He keeps his unbeaten record – improving to 10 wins (5 by KO).
Also on the Bill, Kal Yafai of Birmingham forced the retirement of Mexican Gonzalo Garcia in their scheduled eight-round Bantamweight Contest.
Garcia (who speaks no English) got off to a decent first round against Yafai but quickly took a downhill slide as a confident Yafai piled in the shots. The Mexican was warned for low shots by Referee Ritchie Davies. He retired on his stool at the end of the fourth.
Yafai improves to 7 wins 6 by KO no losses.
Garcia drops to 8 wins (4 by KO) 7 losses (2 by KO) and 2 draws.