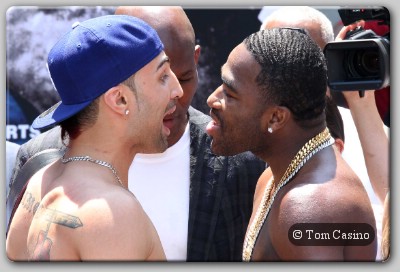 High drama is on the menu this evening at Barclays Center in Brooklyn, NY as WBA welter kingpin Paulie Malignaggi meets the challenge of burgeoning star Adrien Broner after a long, grudge filled press build up.
Broner, 26-0 (22), is moving up from lightweight where he retained the WBC belt once following three WBO super feather title bout victories. The 23 year old from Cincinnati is coming off a fifth round stoppage of Gavin Rees in which the much shorter Rees had surprisingly little difficulty in hitting Broner.
Malignaggi, 32-4 (7), is coming off a successful first defense of the WBA welter strap in which he came off the canvas in the 11th to post a split decision verdict over Pablo Cesar Cano. The 32 year old Brooklyn native previously held the IBF light welter belt for two defenses.
It's unusual that a fighter jumps up two weight classes at world level in a single bout and Broner is hoping to pull off an upset in Malignaggi's back yard.
The risk posed to Broner is nullified somewhat by Malignaggi's lack of a concussive punch but it will be interesting to see if the challenger can carry up his ability to punch at the higher weight against a more experienced opponent.
Broner is the quicker fighter in both handspeed and reaction time, something that will likely provide a key advantage for the younger fighter.
Malignaggi has never faced an opponent with Broner's speed, the closest being Amir Khan, who consistently beat the New Yorker to the punch and exposed holes in Malignaggi's defense.
If Malignaggi cannot time and then effectively counter and break Broner's confidence, he will be in an uphill battle, lacking the punching power to take control of the bout.
For Broner to ensure a win, he must not give Malignaggi room to make use of height and reach advantages, but rather pen in the Brooklyn man and wear him down with power shots, going for a later round stoppage, something both Ricky Hatton and Amir Khan were able to do to the "Magic Man".
Broner will likely have the skills to overcome Malignaggi's experience and home field advantages but cannot give in to his tendency to become undisciplined and careless in the ring, needlessly giving rounds away.
Despite the two stoppage losses, Malignaggi has a good chin and if he can take Broner's power, the best and perhaps only way he can win this fight is to outwork the challenger.
That would take backing up Broner and making him fight defensively, hoping that the fact that Broner has only been past eight rounds once would perhaps lead to the challenger running out of gas in the later rounds of a high energy, taxing contest.