In Friday's ShoBox 10-round main event, undefeated lightweight Mickey "The Spirit" Bey (18-0-1, 9 KO's), of Las Vegas by way of Cleveland , takes on former world title challenger John "The Gladiator" Molina (25-3, 20 KO's), of Covina , Calif.
The co-feature, also scheduled for 10 rounds, will match unbeaten, world-rated Badou Jack (14-0, 10 KO's), of Las Vegas by way of Stockholm , Sweden , against Farah "Quiet Storm'' Ennis (21-2, 12 KO's), of Philadelphia , in a super middleweight bout.
All four ShoBox boxers as well as members of the Mayweather Promotions roster who also worked out Wednesday in preparation for their non-televised scraps on Friday proclaimed themselves fit, confident and excited about their upcoming fights.
What the fighters said Wednesday:
Mickey Bey:
"Any way you look at it, this is a great fight for TV, a great fight for the fans, a great fight for everybody and I'm excited to be part of it.
"I'm definitely in with a good opponent. A top, solid fighter who has a lot of good wins. We know he's going to bring it, which will only bring out the best in me.
"I'm totally focused on Friday. This is a major fight because there are huge plans ahead for me after this. There is no way I am taking Molina, or anybody, lightly.
"When things weren't going great for me, I stayed focused and just kept getting better. It's been a long time coming and all the hard work is going to pay off, but first I have to win on Friday.
"Being with Floyd and Mayweather Promotions has really gotten me back on track. Knowing you are in good hands with people who care really makes a big difference. It's still a lot of hard work, but now my profession is fun for me.
"Training went great. I feel sharp. Friday is going to be a good night."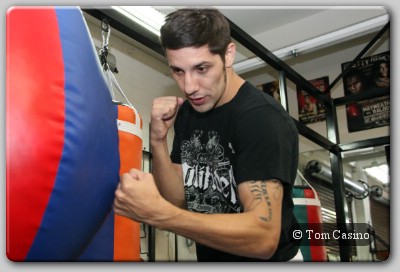 John Molina:
"Perception-wise, this is a very important fight for me and it's certainly in my best interests to get a victory. I know what's ahead of me with a win. A win puts me right back in the thick of things. Mickey Bey is a hell of a fighter and a hell of a boxer. Our styles will make for an explosive fight.
"I was really looking for this kind of opportunity. Actually, I was chomping at the bit for this kind of fight to come along and I really want to thank all the promoters and everyone involved for making this fight happen.
"I think for them to put in a guy against me who's had just one fight in a year and a half shows a lot of guts on their part. I applaud them for that, but I'm not sure they are getting who they think they're getting. They see a guy who's lost a couple of times, but there is more to me than that.
"I feel great, I feel confident and I'm probably as excited and calm before a fight as I've ever been. I'm going to go right after Bey on Friday and will pressure him like he's never been pressured before."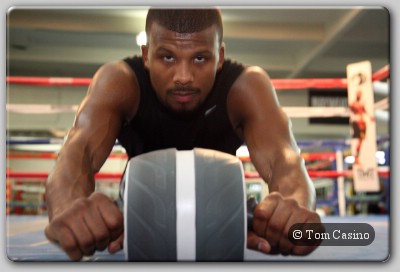 Badou Jack:
"I'm ready and really looking forward to fighting on Friday and fighting again on ShoBox. This is a great opportunity for me.
"The first time I fought on ShoBox (against Alexander Brand in May 2012), I was dealing with a lot of problems outside the ring and I didn't come in focused, but now that I'm with Floyd, I'm able to focus totally on boxing. He takes care of everything. Anyone can have a bad night, but Brand was a tough guy.
"I feel like I'm improving all the time. I know working with (trainer and former world champion) Eddie Mustapha Muhammad has been great. I feel good and I'm set to go. There's no way I'll look past this guy.
"I know on paper he is going to be tough, but just because a fighter looks tough on paper doesn't mean you're going to have a tough fight. I fought a guy, Don Mouton who did not look good on paper, yet it was a tough fight. I fought Brand who had no skills on paper and he gave me a tough fight.
"So we'll see on Friday. I just know I'm prepared and anxious to go."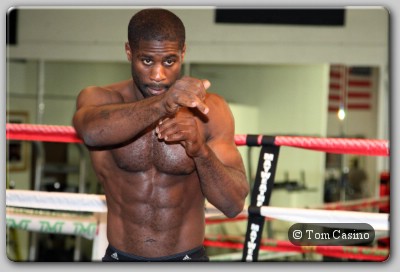 Farah Ennis:
"This is my first time in Las Vegas . I got here on Tuesday, but I'm here to work. This isn't a vacation, it's a creation.
"I'm really looking forward to the fight. This is my opportunity to show the world who I am, to grab some people and to get the attention of the fans.
"I know Badou Jack is coming to fight. I feel he's the toughest fighter I've fought, but I plan to expose his weaknesses. I've fought undefeated fighters before. I just fought five weeks ago, so I'm in the best shape of my life.
"This is my chance on a big stage in Las Vegas to display all my skills. Win this and I'm in the mix with all the top guys in the division."
The slate of non-televised undercard bout includes Luis Arias (5-0, 3 KO's), of Las Vegas by way of Milwaukee, vs. Lateef Mundy (10-6, 4 KO's), Philadelphia, six rounds, super middleweights; Lanell Bellows (4-0-1, 4 KO's), Las Vegas, vs. TBA, 4 rounds, light heavyweights; Justin DeLoach (3-0, 2 KO's), Augusta, Ga., vs. Kelvin Medley (1-0), Chicago, junior middleweights, 4 rounds; Ronald Gavril (4-0, 3 KO's), Las Vegas by way of Bacau, Romania, vs. Jas Phipps (4-0, 1 KO), New Orleans, six rounds, super middleweights; Willie Jones (1-0, 1 KO), Chapel Hill, N.C., vs. Douglas Rosales (pro debut), four rounds, welterweights; Chris Pearson (10-0, 7 KO's), Trotwood, Ohio, vs. Arturo Crespin (10-2-1, 4 KO's), Las Vegas, N.M., six rounds, middleweights and Andrew Tabiti (pro debut), of Las Vegas by way of Chicago, vs. Andrew Howk (0-1), Scatal, Wash., cruiserweights, 4 rounds.
Mauro Ranallo will call the action from ringside with Steve Farhood and former World Champion Raul Marquez serving as expert analysts. The executive producer is Gordon Hall with Richard Gaughan producing and Rick Phillips directing.
Tickets for the stacked event, which is presented by Mayweather Promotions and sponsored by Corona, are priced at $125, $100, $75, $50 and $25, plus applicable taxes, fees and service charges, and are on sale at Hard Rock Hotel & Casino Box Office, all Ticketmaster locations, online at www.ticketmaster.com or by phone at (800) 745-3000. Doors open at 5:25 p.m. PT on fight night and the first fight begins at 5:30 p.m.