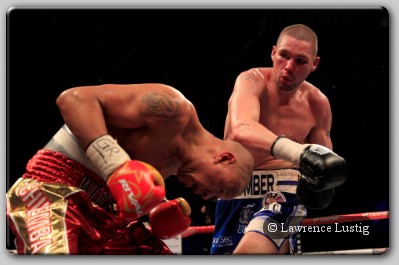 A date and venue has been confirmed for Tony Bellew, the former British and Commonwealth Champion, and his mandatory challenge of Adonis Stevenson's WBC light heavyweight title.
Bellew was recently an interested spectator ringside in Montreal, Canada to see Stevenson display a previously unseen side to his boxing ability in his seven round demolition of former IBF title holder Tavoris Cloud at the Bell Centre.
The 30 year old Bellew, who came up just short in a gallant world title challenge against the former WBO champion Nathan Cleverly at the Echo Arena in his home city of Liverpool in November 2011, will face off against one of boxing's most electrifying punchers on the 30th November at the Colisee du Quebec in Quebec City.
Bellew earnt his crack at Stevenson after emerging victorious against South African based Malawian Issac Chilemba in a rematch at the O2 Arena in London as a chief support to friend and long time sparring partner Carl Froch's triumph over Mikkel Kessler for the IBF and WBA Super-Middleweight titles.
It is not the first time that Bellew has had a fearsome puncher in the opposite corner.
Bellew previously faced former world middleweight title challenger Edison Miranda of Columbia in September, 2012, for a minor WBC trinket, in which Bellew forced a stoppage in the ninth round.
Bellew was fully aware of Miranda's fearsome punching power and looked to box and move for the first three rounds, before eventually opening up and picking the aging and slower Miranda apart.
However, Bellew had been dropped much earlier in his career by Ovil McKenzie, the former Commonwealth champion, when he was canvassed twice in the opening rounds before climbing his way back into the fight and stopping McKenzie in the eighth round.
Bellew goes into the fight as the younger man at 30 years old in comparison to Haitian born Stevenson, who is 36 years.
The Englishman will also go into the fight with a three inch reach advantage, standing at 6ft 2 in comparison to Stevenson, who is only 5ft 11 inches tall and a two inch reach advantage of 74 inches in comparison to Stevenson's 72.
Stevenson has the better resume, however, having dethroned Chad Dawson in just one round to take the WBC title, of which he will make the second defence against Bellew after defeating a former champion in Cloud.
But, there will be questions over Stevenson's stamina, having only been 12 rounds just once against Don George in a IBF eliminator,while Bellew has been 12 rounds six times in his blooming career.
Come fight night, the shorter Stevenson will look to start fast and, with his underated footwork, try to back Bellew up and circle the challenger, while Bellew will look to take the centre of the ring and use his size to set up the jab and the straight right hand to score effectively against the southpaw champion.
Thsi fight is likely to go long, but the outcome in this writer's eyes is unclear as it is a very strong 50/50 bout, in which you can make a strong case for either man.