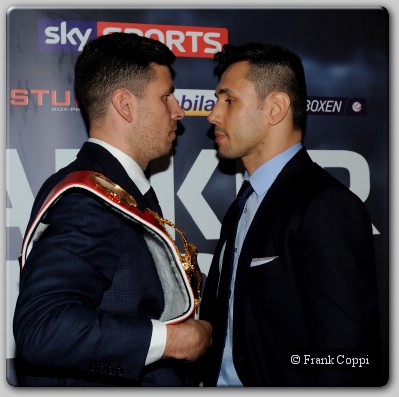 Darren Barker of Barnet, London, sadly lost out to Felix Sturm of Cologne, in Stuttgart, Germany, last night, when he was stopped by his corner in round two of the fight.
'Dazzling' Darren was defending his IBF Middleweight Title, which he won by Split Decision over Australia's Daniel Geale in August.
All seemed well in round one of the contest with both men landing to head and body, although Sturm ended the opener strongly - forcing Barker on the back foot.
But mid-way through the second round, a big right landed to the side of Barker's head and he goes down. He hesitates while on his knees before getting up then hobbles to the neutral corner while he is counted by Referee Mark Nelson.
Moments later, another right lands – causing Barker's knees to dip, it's followed up with another right and Barker falls to the canvas. He gestures to his corner that it is his hip.
Fighting resumes but when he is under pressure again from Sturm – the towel is thrown in by Barker's corner with just under a minute of round two remaining.
Barker had keyhole surgery to both hips three years ago and – with an added bicep injury - was forced to take twelve months leave from boxing while he recovered.
After his defeat last night, Trainer Tony Sims told SkySports that Barker complained of hip pain after the first round. When he first hit the canvas in the second frame Sims was hoping it was a muscle injury, but when he went down the second time he knew it 'had gone' and threw the towel in.