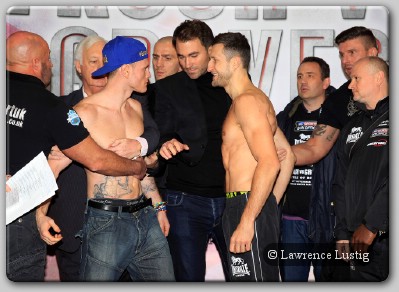 In the opening months of the current calendar year, it has been the talent rich Lightweight division which has been attracting the most amount of media attention here in the United Kingdom more than any other division here to date, whether it be domestically or on the world stage.
The year of the Lightweights started off at the Motorpoint Arena in Cardiff in February with former WBA Light-Welterweight Champion/British Lightweight Champion Gavin Rees serving up a thrilling back and forth contest with former British Super-Featherweight Champion and fellow Welshman Gary Buckland.
The contest was originally billed as a final eliminator for the British Lightweight title and was also seen as a great trade fight between two boxers looking to rebuild their careers for various reasons with the big prize being the British Lightweight title, which Rees has held prior to his world title shot, which came against the brash and then unbeaten American starlet Adrien Broner for the World Boxing Council's portion of the 9stone 9lbs division.
In contrast, Buckland was looking to show he could be a domestic force after being flattened in the fifth round by Liverpool's Stephen Smith down at Super-Featherweight by a right uppercut back in August at the same Arena.
The initial Rees vs. Buckland contest saw the work rate and constant pressure of Rees' being overlooked for the smarter and more accurate boxing of the younger and fresher Buckland, who looks to pursue ambitions of becoming a two weight British champion and maybe more.
And yet for all of the heavy shots that both men exchanged, neither took a knee on the canvas nor a backward step and it remains a contest no one shall ever forget.
It has also been confirmed that Rees and Buckland will go at it again in the same arena on the same bill as fellow Welshmen and Matchroom Sport stablemate's Lee Selby and Nathan Cleverly's homecoming bouts.
Selby will be looking to push on for a world title shot at Featherweight after sending off two-time world title challenger and former British and European title holder Rendall Monroe.
Cleverly will be looking to rebuild his career at Cruiserweight after losing an unbeaten record and WBO Light-Heavyweight title to big hitting Russian Sergei Kovalev.
Not to be outdone in the same month within the Lightweight division, Hull's crowd pleaser Tommy Coyle had one of the most thrilling and dramatic fights ever seen in a British ring against Argentine Daniel Eduardo Brizuela for the International Boxing Federation International Lightweight bauble.
Judging by the action that occurred during the fight, fans could have be en thinking that they were watching Arturo Gatti v Micky Ward or Israel Vazquez v Rafael Marquez series of fights rolled into one for all the back and forth drama in a fight that saw seven knockdowns.
Coyle rose from the canvas on four occasions, each time from body shots, displaying considerable courage and conditioning to put Brizuela down three times.
Added into the mix were several point deductions against Coyle, who was fearful of losing his IBF International bauble in his maiden defence in front of his home fans.
He went on to put down Brizuela down for the fourth and what proved the final time, as referee Steve Gray believed Brizuela was not in a position to finish the fight in the 12th and final round, which led to considerable jubilation from all in attendance.
Also on the comeback trail within the Lightweight division is Manchester's John Murray, after losing a 2011 world title shot against former World Boxing Association Lightweight title holder Brandon Rios of the United States and also a domestic clash against London's Kevin Mitchell and then, reportedly, a worrysome brain scan.
Murray, who is a former British and European Lightweight champion, looked to force himself back into contention after defeating Scotland's John Simpson up in Glasgow on the Ricky Burns vs. Terrace Crawford undercard in March.
After this ten round tune up, six weeks later Murray engaged in a Manchester derby against former Gallagher Gym stablemate Anthony Crolla, who like Murray and Rees is a former British champion, in a 10 round domestic clash before Crolla forced the stoppage in the 10th round as Crolla looks to pursue European and potentially World title ambitions within the next 18 months.
Meanwhile in the past week, Liverpool ticket seller Derry Matthews, who drew and then lost a British Lightweight title against Rees and also served up a fight of the year candidate in April 2012 with Anthony Crolla, has since regained his British Lightweight title after beating Martin Gethin in front of his fans at the historic Liverpool Olympia arena on May 10.
Lightweight contender Kevin Mitchell is also pushing for big fights after missing out on an Interim WBO title shot against the Australian Michael Katsidis in 2010.
But the popular Londoner will have to play second fiddle to the forthcoming Carl Froch vs. George Groves Super-Middleweight grudge rematch at Wembley Stadium as he pursues his world title dream.
The Froch vs. Groves rematch that Mitchell has to play second fiddle to has all of the ingredients to produce a very heady cocktail.
The young pretender is London born George Groves, who is looking to break out on to the world stage and is determined to what his team sees as righting a previous wrong in the shape of the much talked about ninth round stoppage loss to experienced world champion and nemesis, Nottingham's Carl Froch this past November in Manchester.
In this rematch, Froch will enter into his 12th consecutive world title fight and will be looking to finally settle matters come fight night on the 31st May as he wishes to write the final chapters of a glittering career that has seen him capture four world titles as well as the Commonwealth and British belts at Super-Middleweight.
This is a grudge match that has captured public attention so much that it requires the biggest stadium in the land to cater for the demand from the fans up and down the country who wished to see a second fight between these two fierce competitors, who are looking to shape their own destinies in front of the biggest paying crowd in the British Isles since the Second World War.
The bout shall also be broadcast around the world and has the greatest level of interest in British boxing since Chris Eubank and Nigel Benn engaged in their legendary clashes at Middleweight and then at Super-Middleweight back in the 1990s. The latter of their clashes took place at Old Trafford in front of 42,000 fans.
The Lightweights have been making all of the headlines so far this year, but it is now time for Froch and Groves to deliver a response from the Super-Middleweight division.