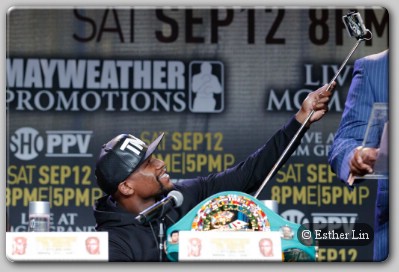 The best ever? Really? Does a boxer that wishes to be known by that title really pick a former champion, who has been handily defeated by Robert Guerrero and Victor Ortiz as well as stopped by Jesus Soto Karass, to face in his "final" fight?
First of all, does anyone actually believe that Floyd Mayweather Jr will hang up the gloves after he, predictably, easily outboxes Andre Berto on September 12 to see his record to 49-0 and equalling Rocky Marciano's career undefeated mark?
Mayweather is almost certainly saying his 49th contest will be his last fight as a bargaining chip to be financially coerced out of retirement by whichever TV company puts up the largest sum.
And, he'll almost certainly face, for his attempt at breaking Marciano's record, someone that he's already defeated, such as Manny Pacquiao or Miguel Cotto, and is confident that he could do so again.
And Floyd will complain for the rest of his life about the numerous people who maintain that he played it safe during large parts of his career.
Is Mayweather an all-time great boxer? Absolutely. Is he the best ever? Quite possibly, but given his late career choices, we'll never really know.
Why isn't Floyd fighting Keith Thurman, Terrance Crawford, Danny Garcia, Kell Brook, Erislandy Lara or Amir Khan on September 12?
Why isn't Mayweather fighting Gennady Golovkin for potential victory number 50?
A fighter who really was "The Best Ever" would do so because, if he really was worthy of that title, he'd know that he would win those fights and he wouldn't care that those opponents might not be the most lucrative choices.
Because this really isn't about money, it's about legacy.
And you can't have both.