Click for larger image © Jan Sanders / Goossen Tutor Promotions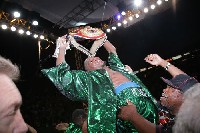 No. 1 contender Paul Williams captured the WBO welterweight title with a 12 round unanimous decision over champion Antonio Margarito before a sold out crowd of 8,023 Saturday at The Home Depot Center in Carson, Calif. The event was presented by Goossen Tutor Promotions and televised on HBO World Championship Boxing.
In other action, heavyweight Cristobal Arreolla and super middleweight Andre Ward remained perfect with TKO victories. Arreola destroyed Derek Berry in less than one minute of the first round, while Ward recorded a third round stoppage of Francisco Diaz. Middleweight Ricardo Cortes opened the evening by earning a six round unanimous decision over Jose Spearman.
Williams dominated the initial six rounds of the action packed affair by putting on a virtual clinic of jabbing, moving and outworking the popular Margarito, 34-5, 1 NC (24), but the champion rallied in the late rounds to plead his case. Despite the late surge, the judges scored the bout in favor of Williams, 33-0 (24), by scores of 116-112 and 115-113 twice.
"It felt good to win here in L.A. ," Williams said. "The fight went as I expected. Margarito is a tough guy, and I definitely got stunned more than a few times. It was not an easy fight.
"The plan was to strike fast and put the early rounds in the bank, and I did. We knew Margarito is a slow starter and we took advantage of that."
According to CompuBox, the much-busier Williams threw 604 more punches (1256 to 652) and nearly 10 times as many jabs (606 to 61) as Margarito.
Despite the disparity in punches, the champion believes he should have been declared the winner.
"I thought I won the fight," Margarito said. "Williams never hurt me with his punches. I rallied in the late rounds.
"Williams threw a lot of punches, but I kept slipping them. I threw the harder punches. After the ninth round, I felt in my heart that I won on the scorecards. Everyone in the arena knows I won this fight."
In his first appearance at The Home Depot Center on May 27, 2006, Williams captured the NABO welterweight crown by scoring a tenth round TKO over undefeated Argentinean Walter Matthysse.
Arreola, 21-0 (19), of Riverside, CA shot out of the gate and backed Berry, 12-9 (5), against the ropes immediately. Following a series of more than 10 unanswered punches, referee Tony Crebs stepped in and stopped the destruction at 0:59 of the opening round. The victory represents Arreola's ninth straight by KO. The hard hitting heavyweight also has nine opening-round knockouts in 21 contests.
"I didn't expect a tough fight," Arreola said. "I have sparred with Berry before. I thought it might go two or three rounds, but not that quickly. I am ready to fight anyone, anywhere, as long as I get a free plane ticket."
Ward, 13-0 (8), of Oakland, CA, floored Diaz, 16-2 (8), of Shawnee Mission, KS, with a devastation combination late in the third round. After an unsteady Diaz rose from the canvas, referee Raul Caiz, Sr. stopped the action at 2:59. Ward won for the fourth straight time in California and ninth time overall.
"That felt beautiful," Ward said. "It was like hitting a baseball on the sweet spot of the bat. Diaz is a tough kid. I didn't know if he was going to get up. I am definitely ready to step up to fight 10 rounds."
Cortes, 20-1-1 (14), of San Jose, CA, worked effectively on the inside and ran his winning streak to 10 by neutralizing the game veteran Spearman, 27-14-4 (11), of Indianapolis, IN. Two of the judges scored the bout 59-55, while the third had it 58-56, all in favor of Cortes. Since turning pro in 2000, Cortes has fought all but one of his fights in California .