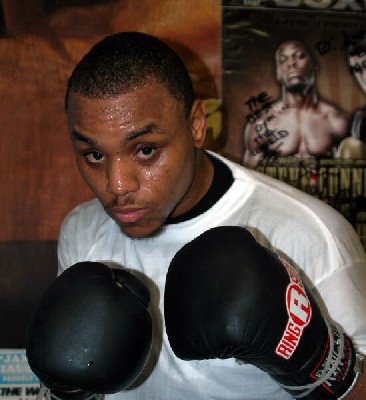 © Gianluca "Rio" Di Caro
Philadelphia, PA is well known for producing a long line of quality fighters in many weight classes. Even at age 43, Bernard Hopkins remains the flag bearer of the legendary Philadelphia fighter in the sport today but there is a younger cast of boxers beginning to surge forth that will shortly begin to replace the old guard.
Super middleweight Gee Cullmer is one of those hopefuls and since turning pro in December, 2000, the 32 year old has racked up a promising 14-1-1NC (3) record including 10 straight bouts without a loss since dropping a four rounder to Dorian Beaupierre in 2003.
SaddoBoxing was fortunate enough to catchup with with Gee soon after he posted a hard fought majority decision over Mustapha Johnson at Philadelphia's famed Legendary Blue Horizon last month and you won't want to miss what this talented and thoughtful fighter had to say about his career and bright future.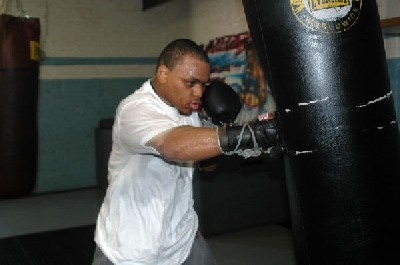 © Gianluca "Rio" Di Caro
SaddoBoxing: What made you want to start boxing and how old were you when you first started going to the gym?
Gee Cullmer: "I became interested in boxing as a juvenile when I was sent away to a school for boys at age 14. When I was 20, I started going to the gym because I used to fight in street all the time and my older brother pushed me to go to the gym."
SB: What were your accomplishments as an amateur?
GC: "I had a brief amateur career, 13 fights. I had about 8 novice fights. I won Golden Gloves in the novice division, I won a recreation tournament, which is known now as the Lucien Blackwell Tournament. I won the Ohio State Fair, I lost in the semi-finals of the National PAL Tournament. That sums up amateur career."
SB: After winning your first five professional fights, you faced the more seasoned Dorian Beaupierre in 2003 and lost a four round contest; what did you learn in the bout and did the experience make you a better fighter?
GC: "I learned a great deal in the fight. When I first went out there, it was supposed to be a six rounder. That night when I entered the ring, they changed it from a six rounder to a four rounder. When I watched the tape of the figh,t I noticed that it was changed because of time. I was a swing bout on a televised card. Since I wasn't used in the swing bout, I didn't enter the ring about 12:30am."
"It taught me a valuable lesson. I learned to never underestimate anybody. I didn't look at him as a seasoned fighter. I thought he was going to be another victim for me. As a matter of fact, before I left to go out to the fight I found out a good friend of mine, Rasheem Brown, had knocked him out in one round.
"So I thought I was going to do the same. You can never judge a fighter on what he does with someone else. I should only judge him on what he does in the ring with me."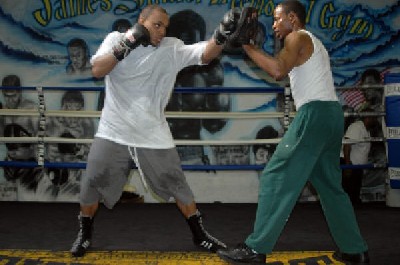 © Gianluca "Rio" Di Caro
SB: Since that time you've won nine bouts with one no contest while generally fighting two or three times a year, but this year, you've already fought twice by mid-April; do you like the busier schedule? Is this a conscious strategy to step things up at this stage of your career?
GC: "I love the busier schedule. I haven't fought much until I got with my current manger and promotional outfit, which is Rob Murray and Vernoca Michaels. Through the grace of God with them I have been fighting more. I'm on borrowed time and I'm trying to use that time the best way I can. I should have had more fights than what my record reflects, but things happen for a reason.
"I experienced a tragedy in 2003. My trainer Monty Carter died and I dealt with serious depression as a result. He wasn't a father figure to me, I felt like he was my father. He died unexpectedly and it was difficult for me to move on.
"It's no excuse for me not fighting, but between August 2003 and September 2005, I only had about 2 fights. I didn't start getting fights regularly until I got with Mr. Rob and Ms. Michaels."
SB: Two of your last three fights have been majority decision victories; what is getting harder about these bouts as you climb the ladder?
GC: "I've made it harder on myself in those three fights. Not with training, because I run and go to the gym. That's fun to me, it's not even work, but I haven't been as focused as I should've been."
SB: How would you describe your style in the ring? Have you patterned your style after anyone else's, perhaps one of your boxing heroes, or someone you saw train while you were coming up?
GC: "I take from everybody and try to put my own personality on it. I watch everything on boxing from the 1950's to about 1989. Those are the eras that I love. I have patterned my style after several different fighters. I want to jab like Tommy Hearns, body punch like Roberto Duran, counter puncher like Mike McCallum, and also one of my final favorites is to have ring generalship like Salvador Sanchez."
SB: Do you know when you will be in the ring next and who you will face in the opposite corner? If so, what do you know about your opponent? If you don't know who you are fighting, is there anyone in particular that you would like to fight next and why?
GC: "I'm not sure about my next fight. I'm going to leave that up to my management team. They can do their job and I will do mine 150%. I'll become more focused in my endeavors, which I think is the only thing I have been lacking.
"My next fight depends on who my management team designates me to fight. Because if they think I can beat him, I know I can beat him."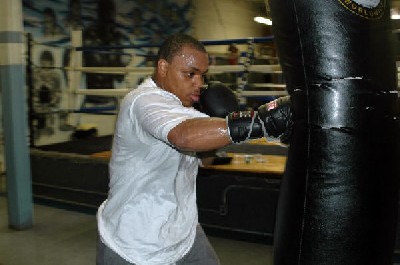 © Gianluca "Rio" Di Caro
SB: Where do you see yourself in one year's time? What do you expect to have achieved in the boxing ring?
GC: "I wish I knew. If I knew, it would make it easier for me. It makes it scary and inviting both at the same time because when you set out on a mission, you never know what the outcome will be and anyone who tells they know is a liar. You do your best to equip yourself for that mission, regardless of what may come, good or bad.
"I feel like that's what I'm doing, doing my best to prepare myself for the mission and being focused on the goal 100%. I believe people have only seen the tip of the iceberg of what I can be as a fighter. With me being focused and disciplined, I feel the sky is the limit for what can happen for me as a fighter."
SB: Is the re anything else that you would like to say?
GC: "I would like to thank my boxing family because I feel as though I don't have a team, I have a family in boxing, from my trainers, my promotions, and management.
"I also appreciate SaddoBoxing taking the time out to talk with me. It's greatly appreciated. I would like to say Rest In Peace to my guardian angels, Monty Carter, Melvin Carter and Ryan K-Rock Kelsey. Thank you again."
SaddoBoxing thanks Gianluca "Rio" Di Caro for making this interview with Gee Cullmer possible.