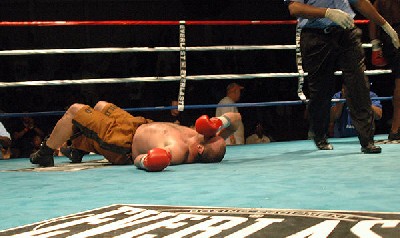 © Gianluca "Rio" Di Caro
Mark ʽOak Tree' Brown put on an impressive show for his hometown fans in Salem, New Jersey on Saturday night, culminating in a second round knockout of Ralph ʽWild Wild' West of Louisville, Kentucky.
Brown, who weighed in at a lean 223 pounds, was clearly fired up and determined to add to his already excellent 12-1 (5) record. Right from the start he charged at his much larger opponent taking control throwing punch after punch without seeming to have much effect on the 254 pound Kentucky behemoth who just shrugged them off like they were annoying bugs.
Halfway through the round, West countered with a massive right hand which clearly rocked Brown, but not enough as ʽOak Tree' soon came back again and just before the bell almost put West down with a classy combination of shots.
In the second round, again Brown went on the attack straight from the bell, this time preferring to work more on the inside, wrestling with West until the opportunity arose where he could unload a massive flurry of punches culminating in a hard right that propelled West into the corner.
Brown followed in and let rip again unloading a left followed by a clubbing right that dispatched West to the canvas with just 1 minute 46 seconds of the round gone.
The co-feature was no less exciting as Willie ʽFor Real' Williams of Baltimore, Maryland, 10-2 (2), took on Alfred ʽAK-47' Kinsey from Atlantic City, New Jersey. 6-2-1 (3) in a frantic light heavyweight battle royale.
Kinsey seemed to have the upper hand in the first two rounds but from then on it was Williams. Right from the bell of the third he took control through some tasty combinations, working the body hard. In the fourth Williams continued in the same vain.
In the fifth Kinsey was countering beautifully, bringing him back into contention, but in the sixth all his hard work was undone when Williams again began attacking the body hard and with just a minute to go in the round landed a beautiful bodyshot that sent Kinsey down on one knee in order to get his breath back and then just before the bell a powerful right had him down again.
Kinsey was not to return to the fray for the seventh round as the ringside doctor advised the officials that he should not continue.
In the featherweight battle of the ʽJersey Boys', Victor Valenzuela of Passaic, New Jersey, 2-0 (1), scored a unanimous decision over Byrne Green of Vineyard, New Jersey, 3-0 (2) after a very entertaining bout which saw both give their all as they battled to retain their unblemished records.
It seemed that they were heading for a draw of two rounds apiece when just seconds from the end Valenzuela landed a peach of a left hook that dropped Green, who managed to get back up on his feet just as the final bell rang.
The junior welterweight contest that preceded the ʽJersey Boys' was a frantic, wild affair that lasted just two of the scheduled four rounds as Mike Denby of Felton, Delaware, 1-1-2 (1), floored Shavaris Buie from Brooklyn, New York, 0-4, in the second round with two powerful body shots followed by a scintilating combination. Buie did make it back to his feet, but too late as the referee had reached the ten count.
The opening fight pitted junior middleweights Eberto Median of Irvington, New Jersey 3-3 (1) against Ashantie Hendrickson of Medford. New York 1-1.
This magnificent contest between two very well matched opponents set the standard for the whole evening and from early on it was clear it would be a hard one to call as both fighters battled for supremecy throughout, but at the end of the bout the majority decision went to Medina. The score cards read 39-37 (twice) for Medina and 38-38.
Jarvis Robinson and his Fight Night Productions team did Salem, New Jersey and boxing proud with this, his maiden, event. It was a very entertaining evening of quality boxing, which was clearly enjoyed by one and all in attendance.