**With Slideshow**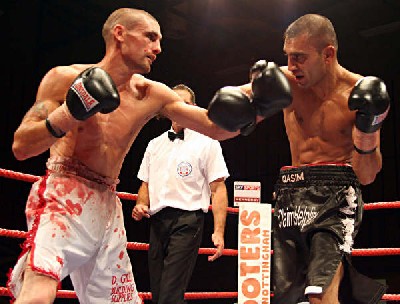 © Jane Warburton / Saddo Boxing
Newly crowned British Lightweight Champion John Murray could be making his first defence against Martin Gethin after Gethin waged a very exciting fight against Ingle Camp boxer Nadeem Siddique on the undercard of Murray vs. Lee Meager on Friday night at the Robin Park Arena in Wigan, England.
ʽGolden Boy' Siddique, is the taller switch-hitter training out of the Ingle's stable in Sheffield, while Gethin - a tough boxer - hails from Errol Johnsons' gym in Wednesbury.
It proved to be an action-packed eight round lightweight contest between these two unbeaten fighters.
The opening minute of round one sees a cut to the right eye of Siddique. Gethin keeps calm and focussed as he susses out his opponent. Siddique seems ʽbothered' by the cut and dabs at his right eye. But it's a busy last minute for both men, Siddique throwing some solid body-shots and Gethin coming back with some lefts and rights.
Both men grin at each other as the bell signals the end of the round. Siddique concentrates on the body-punches but Gethin keeps up the pace.
Round three and the body-punches again sink into Gethin's torso but he responds with a great left uppercut. Siddique also lands a good right uppercut but Gethin isn't phased by it. In the closing half minute of round three, Gethin marches forward, throwing a barrage of shots at Siddique who looks in trouble.
The Walsall man continues to throw punches to the face of Siddique and the Bradford man looks like his energy has been sapped.
Blood flows from the nose of Gethin as he starts round four but he wipes away the claret and gets ʽstuck in'. Both men keep up the work-rate, but as Gethin offloads more head shots in the closing seconds of the frame - Siddique looks ʽrattled' as he goes back to his corner.
After almost a minute of round five gone, Gethin throws a wild swinging right which misses its mark and Siddique counters with a short right hook as Gethin overbalances against the ropes momentarily while Siddique throws some shots off target. Gethin grins and shakes his head as if to say 'that was nothing'.
Some of the crowd are on their feet - appreciating the 'battle' opening up before them. Mid-way through the round, Gethin marches Siddique backwards towards the ropes. Gethin's white shorts are now red with blood as they stand toe-to-toe and slug it out in the centre of the ring. The crowd are on their feet as Siddique ups the work-rate, but again, Gethin smiles at the end of the round.
Sky Fight stats reveal that Gethin has thrown less punches, 333 to 510 for Siddique, but has the better success rate at 27% versus 17%.
Trainer Errol Johnson tells his charge that it's a close contest and Gethin comes out fired up for round seven. Siddique covers up as Gethin throws a barrage of shots including a big left which sends Siddique toppling into the corner. Siddique is in trouble and holds on to the Walsall man as he tries to recover, Gethin continues the onslaught and Siddique looks exhausted by it.
Siddique is wide open as a big right hook lands, he looks drained but he comes back with some shots of his own. Siddique slowly recovers and lands some body shots which look low.
In the closing minute, Siddique comes back then Gethin responds and both men are slugging it out in what has been a gruelling contest.
In the last 30 seconds, a huge swinging right shot from Gethin lands to the temple of Siddique and he cannot get away from Gethin's punches, which keep coming. Referee Steve Grey steps in to save an unsteady Siddique from further suffering!
Martin Gethin wins by TKO round seven and improves to 14-0-1 (6), while Nadeem Siddique suffers his first loss to fall to 22-1 (6).