**With Slideshow**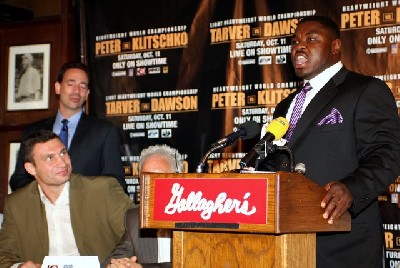 © Jim Everett / Saddo Boxing
"Who did you beat to call yourself the champion of the world? You have to beat a champion to become champion," bellowed WBC Champion Samuel Peter towards his challenger WBC Champion Emeritus Vitali Klitschko. The two heavyweights met at a press conference at Gallagher's Steakhouse in New York City yesterday to announce their October 11 title fight at the O2 World Arena in Kreuzberg, Berlin, Germany .
Vitali "Dr. Iron Fist" Klitschko, 35-2 (34), has not been in the ring since December 2004, when he defended his WBC and Ring titles against Danny Williams, knocking the Brit down four times before winning by TKO in the eighth round.
After having to reschedule his next defense against Hasim Rahman several times due to injuries, Klitschko retired from the sport in late 2005. He was due to return to the ring last year to face Jameel McCline, but again was forced to cancel the bout due to injury.
Klitschko feels the injuries are a part of all big sports, "A good example is world champion Ruslan Chagaev just a couple of months ago tore his Achilles tendon a week before the fight. It sometimes happens, nobody has a guarantee. I'm more than sure right now, I have checked my health, I'm 100% ready, I don't have any problems and I'm very optimistic."
When asked by the media what his motivation is to return to the ring, Klitschko replied, "Always I have a motivation to be a world champion. We have a dream for two brothers to be the world champion at the same time, to make history, to write the history of boxing."
Many critics feel that Vitali should have looked for a tune-up fight first before fighting for the title, due his long absence from the ring. "I don't need to fight between," said Klitschko. "I can fight directly to Samuel Peter, I don't care about another fight and I'm in great shape to fight for a world title."
"I'm very happy to be on the stage today and to say that I am back," said Klitschko as he addressed the media from the podium. "I'm very happy to be in the ring on October 11 to fight for my title. My title is one I didn't lose. I gave up my title free because I had a knee injury in 2005.
"I'm happy and ready to fight against anyone who has a title. I'm sorry for Peter, you have a title now and I have to fight you," smiled Klitschko towards the WBC Champion. "I know the fight will be very interesting, because many people, skeptical people say Klitschko was more than three years outside of the ring. Don't worry, I haven't lost my skills in three years."
In speaking about Peter's promoters, Klitschko commented, "I have big respect for Mr. Duva, you tell people Sam Peter prepares to knock Klitschko out. I remember in New York a couple of years ago, my fight against Kirk Johnson, I heard from you exactly the same words, the words I heard so many times but it never happened.
"I know I don't want to underestimate Sam Peter, he's a very strong fighter, a big puncher, but Klitschko also can punch a little bit. I will give my best to be the winner and to take my title back and to write the history of boxing. It's never been in the history of boxing two brothers have been heavyweight champion at the same time."
Unlike Klitschko, WBC Heavyweight Champion Samuel Peter, 30-1 (23), has tried everything possible to stay active in his career, but has run into several obstacles that have kept him from progressing at a quicker pace.
After fighting five times in 2005 and suffering his first loss to Vitali's younger brother, Wladimir Klitschko, Peter continued his rebuilding process by winning a split decision against James Toney in a WBC Heavyweight Title Eliminator in September, 2006.
Rather than receiving his title shot, the WBC ordered a rematch with James Toney, which Peter won by unanimous decision in January 2007. But, instead of getting his title shot against then WBC Champion Oleg Maskaev, this was around the time that Vitali made rumblings about coming out of retirement and looked to regain his WBC Championship by facing Maskaev.
After negotiations between the fighter's camps and the WBC, it was decided that Peter would face Maskaev for the WBC Championship and the winner would face the winner of Klitschko's bout against Jameel McCline.
Both Klitschko and Maskaev had to pull out of their respective fights due to injury, leaving a WBC Interim Heavyweight Title fight between Peter and McCline, which Peter won by unanimous decision after being down three times in the first three rounds.
Peter finally won the title against Maskaev in March of this year, stopping the Russian in the sixth round. After all of the delays in Peter's career, it was no surprise when Peter's manager Ivalo Gotzev stepped to the podium and seemed just a little bit bitter towards Klitschko.
"We came here for a very important reason," said Gotzev. "Everybody has expressed their own opinions; I have my own as far as how difficult it has been. A lot of obstacles and a lot of B.S. and nonsense we had to put up with to get to this point.
"It has been one of the worse experiences of my professional life. We are here to put that away. There is simply one obstacle left in this whole equation…Vitali Klitschko."
Speaking of Klitschko, Gotzev continued, "He mentioned that people have been skeptical whether he could do the job or not, since he has been gone for three or four years. I'm personally skeptical whether he is going to make the fight or not because he has also pulled out on so many occasions, it's not even funny.
"I believe he means business now. I believe he is here to stay and train properly for the fight and be ready and not have a lame excuse like my back hurt, my elbow hurt, my knew hurt and pull out of it again.
"We don't want to hear that. We want to hear one thing, get in or get out and once you get out, don't come back because this is the heavyweight championship of the world and this is our business!"
Gotzev also took a few jabs at Klitschko's political aspirations, saying "He can go back to his political career, he can go and win the mayoral election of Kiev; we'll be his biggest supporters, we'll be there cheering for him. In fact, we'll do his campaign for him if he wants; next time he might win it. But the heavyweight championship of the world is Samuel Peter's business, that's all there is to it. Please, just be there; the business will be taken care of in the ring."
When WBC Heavyweight Champion Peter stepped to the podium, although more jovial than his manager, he also made comments to Klitschko, "I'm the real heavyweight champion of the world, the true one. I have a question for you. Where did you pick up your belt? Who did you beat to call yourself the champion of the world?
"You have to beat a champion to become champion. You never became heavyweight champion of the world yet until you beat someone who had a belt. Stop saying you had a belt. You never had a belt. I'm the true heavyweight champion of the world!"
Peter smiled as he offered his prediction of the outcome of their fight, "I'm making one promise today. I will knock Vitali out. Trust me. I will knock out Vitali, and then I will beat his brother [IBF/WBO Heavyweight Champion Wladimir Klitschko]. There is no doubt about that."