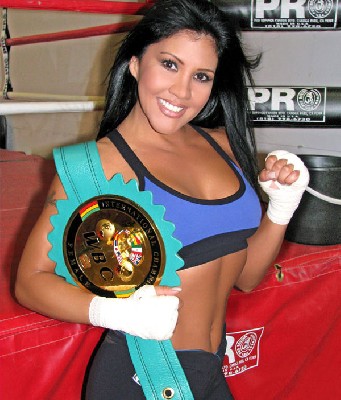 © Mia St. John
Remember when turning 35 meant the end of an athlete's professional career? Let alone turning 40. Times sure have changed. Dara Torres, 41 year old Olympic swimmer is an inspiring example. I heard someone say the other day that she had the body of a 20 year old. Really? What 20 year-old, I asked? I haven't seen many 20 year-olds that were that ripped.
Then I watched Debi Purcell, 39 year old MMA fighter, fight on Showtime this month. She too did not look like any 20 year-old fighter I have ever seen. The worst thing I think you can say to someone is, "You're really in shape for someone your age!" or "You look great for having kids!" What!? For "my age", did you say? So if I were, let's say, 20 years old, boxing eight rounds, running hills and lifting weights all in one day - that wouldn't be so astonishing? I think it's pretty remarkable for anyone—at any age.
Now here's the kicker, "She fights like a man." Again, I don't know many men that can box as well as, say, #1 ranked bantamweight, 41 year-old, Alicia Ashley. So now whenever people ask me when am I going to retire, I simply say when Bernard Hopkins, 43, does.
Sadly, for women, we are considered over the hill once we've reached 30. If you are a man, you become seasoned or distinguished. We just become...well—old. I remember once when I was still with promoter Bob Arum and at a press conference he announced that he wanted to wish me a happy birthday because I had just turned 33! I just cringed, I wanted to crawl under a rock. Now at 41, 33 doesn't seem so bad.
Let's be honest, as we get older, our workouts get harder or seem harder. Our muscles don't recover as quickly. If I train legs one day, it's a good week before I recover enough to do them again. I don't spar 12 rounds anymore, my max is about 7 or 8 now. And I no longer run 26.2 mile marathons. I'm good with a 10k! Even then I sometimes have a hard-time getting out of bed. Heck, sometimes that's hard regardless of a workout. Don't even get me started on injuries.
I am now on just about every supplement known to man. I'm in bed no later than 10 pm and I can no longer eat whatever I want, whenever I want.
So what's better, you ask? I'm better at all these things than I was at 31 or even 21. You know the old cliché, with age comes wisdom. When George Bernard Shaw said, "Youth is wasted on the young," he could not have been more right.
When I first started fighting on the undercards of De La Hoya in front of thousands of people, the lights, the cameras, etc.—I used to wish it all away. I would get so nervous I would just want the fight to hurry up and be over with. And that's exactly what happened, before I knew it, with what seemed like a blink of an eye, it was over.
Now nearly an entire decade later, I wish not one second of it away. I soak in every moment, from the daily grind, to the dressing room, the walk through the tunnel, to the fight itself. All I am thinking is what is happening at that very moment, being in the present.
Surprisingly, I don't get as tired as I use to. I don't need to spar 12 rounds or run 26.2 miles or even 5 for that matter. I get what I need with less and I no longer go into a fight exhausted just from the training. I've also learned how to conserve my energy in the ring. I learned how to breathe, so that I am more relaxed instead of wasting my energy by being nervous and tense. I have fun and I appreciate my workouts.
I may not recover as quickly as I use to, but that's a good thing. I take breaks and do things that I wouldn't normally do. Now, I admit dieting is tougher than ever and I really miss being able to eat ice cream everyday!
Now it's all about moderation. I can still eat my favorite foods, it just has to be in small amounts and less frequent (though with each passing year it becomes less and less frequent). But when I do, it's like heaven, I savor every bite and again I appreciate it more now.
I appreciate everything more, even winning a fight is better than it was 10 years ago. Even though I have walked into that ring 56 professional times, including my one MMA bout. My fight in Mexico City this last June meant more to me than all my fights put together. One being that it was held in Mexico and I have always said I would not retire without fighting in my mother's country. Secondly, I finally fought for the WBC, another dream of mine. Lastly, with just a week shy of my 41st birthday, fighting a girl 15 years my junior, I walked away with my hands raised.
After suffering three straight losses on my record, the win meant a lot, but it didn't mean everything. Winning doesn't mean as much as it use to and neither does losing for that matter. For me it was all about the journey that led me there and realizing that life really does get better after 40.
To catch up on all the latest info on Mia St. John Click Here