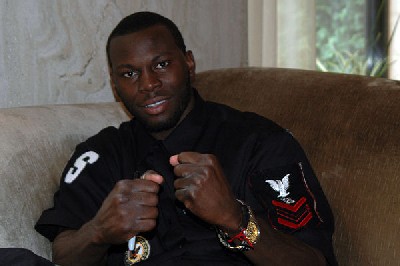 © Gianluca "Rio" Di Caro
One of the best boxers on the planet at any weight, IBF Cruiserweight Champion Steve Cunningham, took the time out from his busy schedule to speak with SaddoBoxing about a variety of subjects as he prepares for a title defense against dangerous former WBC Light Heavyweight Champion Tomasz Adamek at Newark NJ's Prudential Center on December 11, 2008.
SaddoBoxing: Although you were a Golden Gloves Champion, you only had 55 fights as an amateur. Given that amount of amateur experience, what was it that allowed you to compete with and defeat such proven operators as Sebastiaan Rothmann and Guillermo Jones before you even had 20 professional bouts?
Steve Cunningham: First, my faith and trust in God and Jesus name. It helps me to do all things in the name of Christ which strengthens me, so that right there is the ultimate.Second is the hard work, that I got from growing up in Philly, you know, fighting on the streets and then there's the hard work, you know, the extra hard work I got at boot camp in the Navy and working in the Navy.
It gave me drive, made me work harder towards being the best. I know that nothing can stop me when I'm right, training and working hard, I always do extra, I push myself. Basically that's it. The Lord and dedication to my training.
SB: Philadelphia has produced so many good fighters over the years and obviously continues to do; what is it about the scene in Philadelphia that makes this happen? When Bernard Hopkins retires, will you become the new figurehead of boxing in the region?
SC: I would love for that to happen. I want to be a figurehead throughout the world in boxing also, not just my own city. But I know I have to be the best in my city first. Bernard Hopkins has the torch right now. I'd be honored if he passed it on to me. On passing it to me, that would mean that my game would have to seriously be stepped up.
But what makes Philly so different is the competition. Here in Philly everyone is hungry. I came from the ghetto. I was starving, you know. There's no silver spoons being given out or put in kids mouths when they're being born. We're all hurting and starving here. It's the competition here that makes Philadelphia come up with great fighters, great athletes, actors and great everything.
SB: You've had to go to Europe for your world title fights, officially winning two and losing one; what was your perception of the scoring in Poland for the two bouts with Krzysztof Wlodarczyk and how did those fights influence your performance against Marco Huck in Germany? How have those European experiences helped you in your development not only as a fighter but also as a player in the boxing business?
SC: Well, the first fight in Poland with Krzysztof, we knew they'd switched the judges. There wasn't supposed to be a Polish judge there. The IBF didn't have a Polish judge sanctioned to judge a fight for them in Poland. So when we found out there was a Polish judge and they switched him with the German judge, we knew there was goin to be, you know, a little home cooking. But at that time we felt that our boxing skills were superior, we felt we would be able to sway anybody regardless of how it went. But when the scores were read I was devastated, but with all the wrong things that went on, we were able to get a rematch.
When we got the rematch and fought him the second time, it seems there was a little "home cooked meal" going on there also, that one judge having it a draw. Even with the 10-8 round, we made him take a knee in the fourth or fifth round, wow, but the other two judges see it properly and appropriately and they awarded me the championship.
Me having that first robbery in Poland as you can see I came out a little more different for the second fight. I always come out differently in every fight. Through prayer and strength in the Lord, I took it up a knotch or two for my next fights. The Huck fight and the second Krzysztof fight and it's going to affect me for the Adamek fight, too.
Just that nobody's going to give you anything, business-wise, just because you're at the top. I was rated no 1 when I fought Krzysztof, but that meant nothing. Not that I wanted to be given this or that just because I was the number one rated guy or anything. They quickly showed us that mean't nothing, the only thing that means something in boxing is kicking the other guy's butt. All of these trips to Europe have showed me to KICK BUTT.
SB: WBC light heavyweight champion Tomasz Adamek: what are your perceptions of him as an opponent? Is it likely that he'll be harder to out box than either Wlodarczyk or Huck?
SC: He's a former Champion, that says enough right there. He's strong, he's intelligent, he can box, he can move. He's a pretty decent fighter. He's put on some good wars. Those were good wars between him and Paul Briggs. He's probably the most qualified opponent I have fought up to date with him being a former world champion. Of course, my "A" game is going to be an "A+" game.
I can look at him and see. I don't think so. He boxes totally different to Wlodarczyk or Huck. Huck was more of a bully, if you let him, he would do that. If you covered up, he would tee off on you. If you didn't do anything, Huck would get you. We just got in Huck's face and shut him down. Krzysztof is more of a defensive guy where he just let you blow your load then comes back at you with big shots. I look at Tomasz as being more of a thinker with power. I look at his being more of a chess match, though I'm going play it like a fast game of checkers.
SB: One of your old opponents, Guillermo Jones, defeated WBA Champ Firat Arslan recently. Is it likely that you'll have a chance to fight Jones in a unification bout, assuming for the moment that you defeat Adamek?
SC: That would be wonderful. First of all, I don't want to disrespect Adamek by looking beyond him or anything. But we've got a business plan. I'd love to fight Guillermo. The rematch would be a very sellable fight to HBO or Showtime as we've got bad blood, some people thought he'd won the first match. I won it, though some people thought it could have gone either way.
I know 100% I won that fight. That really showed me that I could fight at 60% or 70% and still beat a guy like Guillermo Jones. If we do rematch, and I'd love to because that'll be a unification fight. Which champion doesn't want to unify all the belts? If we do fight again, you will see a 110% Steve Cunningham.
SB: David Haye held the WBC, WBA and WBO belts earlier this year but has apparently left the cruiserweight division and will begin his campaign as a full-time heavyweight in November. In your estimation, did Haye simply avoid fighting you? What would happen, in your opinion, if you two were to ever face each other in a contest and would you go to heavyweight in order to fight Haye?
SC: I'm going to answer the last question first. I'm not chasing a guy that's running. You know, David Haye left the division. I don't blame him going up to heavyweight. It's a business move. There's more money up there, more exposure. Many cruiserweight champions vacated their titles to go up to heavyweight. But don't do it after making the big statement that you have beat all the champions and you've cleaned up the division when there's one champion still sitting here with his title. I would loved to have made a unification fight, but obviously he didn't want to.
The fans make the judgment on if he is scared or not. I can say what I believe but at the end of the day this sport is about the fans to enjoy and converse about. A fight with me and Haye, I truly see it, in Jesus name, the fight going about nine rounds because Haye doesn't have stamina. After the first two or three rounds throwing his infamous "Hayemakers", he's gonna be stuck, with all that muscle mass he has but no lungs, I see him going down before the ninth.
SB: At 32 years of age, you have achieved a great deal as a professional boxer and are arguably at the top of your game. What would you like to accomplish over the remaining balance of your career?
SC: First, I don't think I am at the top of my game. I'm still learning and there's still a lot I want to see myself do, and I'm working on doing it. We've got some longevity in this division. In my career and in my life, things I want to do don't really matter. Of course I've got a plan and I intend to do it. We ask God to guide our path and he guided me to being a champion.
A national champion when an amateur, that was all God. Of course I did work hard but without his hand on me that wouldn't have happened. I came out of nowhere with less than 15 amateur fights and won a national title. Then I'm in the pros and winning a world championship. All this is god, you know what I mean. However he wants to guide me I'm fully with it.
SB: Is there anything that you'd like to add or say?
SC: I'd like to thank everybody for their prayers for my daughter. She's doing great. We thank you and pray that your prayers get answered.
For all of you that are able to make it to the fight at the Prudential Center in Newark, New Jersey on December 11th. Please come so you can see "USS" Cunningham set sail and go to battle with Tomasz Adamek. At the end I will still be cruiserweight champion in Jesus name.
SB: Thank you for taking the time Steve and all the best on December 11.
SaddoBoxing would like to thank Gianluca "Rio" Di Caro for making this interview possible.