Click for larger image © Jim Everett / Saddo Boxing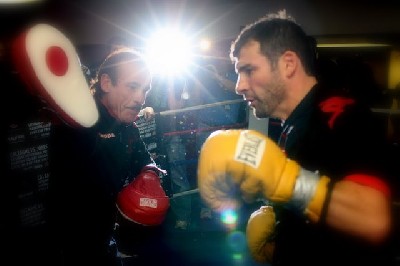 **With Slideshow**
Undefeated Light Heavyweight Champion Joe Calzaghe and eight-time world champion, Roy Jones, Jr., held a media workout at Kingsway Boxing Gym in New York City in preparation for their " Battle of the Superpowers" boxing card which will take place at Madison Square Garden on Saturday.
Calzaghe, 45-0 (32), was upbeat and in a bit of a jovial mood as he arrived to the gym. After answering some brief questions as he wrapped his hands, he joked with the media about wanting to be sure his hair was in place.
After loosening up in a ring surrounded by photographers, Calzaghe put on an impressive display of speed, accuracy and power as he worked the hand mitts with his father Enzo. After two rounds of working the mitts, he did some shadowboxing, slipping and moving well as he spent time peering into media cameras smiling and posing.
Jones, 51-4 (38), also spent some time answering a few questions from the media and opened his workout by hitting the speed bag with rhythmic accuracy. The beats of the speed bag really seemed to match the beat of a song, perhaps what Jones' was listening to on his iPod at the time.
After a careful song selection was chosen on his stereo, Jones moved around the ring loosening up with some light shadowboxing. He was in a zone, smiling not so much to the media, but more to himself as he used his footwork and threw punches in the air.
Jones also worked the hand mitts for a couple rounds, but did not seem to have the speed or snap that Calzaghe displayed earlier.
Although Jones exudes confidence, only he knows if it will be enough to pull out a victory when he steps into the ring on Saturday.