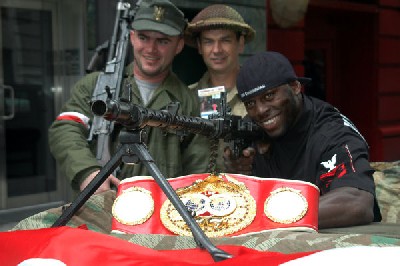 © Gianluca (Rio) Di Caro
IBF Cruiserweight Champion, Steve 'USS' Cunningham will be taking some time out from training camp and preparations for his upcoming title defense to honor his fellow servicemen, past and present, by taking part in the annual New York City Veterans Day Parade on Tuesday, 11th November 2008.
Cunningham, who defends his crown against former WBO Light Heavyweight Champion, Tomasz 'Goral' Adamek, at the Prudential Center in Newark, New Jersey, exactly one calendar month later, on Thursday, December, 11th, 2008, started his boxing career whilst in the Navy and he firmly believes that the disciplines he learned whilst serving as an aircraft refueler aboard the USS America and the USS Enterprise in the mid '90s, were the springboard to his success as a professional prize fighter.
A rightly proud Cunningham said, "Being in the parade is a true honor. I served four years in the Navy. I know what it means, you know, the recognition given to people who, like me, served their country. I feel privileged to be taking part and while doing so will be remembering those heroic men and women that will not be there, those who were killed fighting in the wars, as well as honoring those that are. I'm going to march with dignity and pride."
New York City Veterans Day Parade, held on Fifth Avenue, from 26th Street to 56th Street from 11:30 AM - 3:00 PM, is the largest of its kind in the nation, providing an opportunity for New Yorkers and visitors from across America and around the world to honor those who have preserved our freedoms.
The theme for 2008, "Legacy of Honor," pays tribute to veterans of all eras, and also serves to welcome home the Intrepid Sea, Air & Space Museum.
The parade features over 20,000 participants, including veterans of all eras, active duty military, ROTC and Jr. ROTC units, civic and youth groups, all accompanied by music performed by a dozen of our nation's best high school marching bands.
Floats, military and vintage vehicles and other special contingents add to the spectacle and excitement of the parade, which is viewed by over 400,000 spectators. The parade route is approximately 1.5 miles, and takes
30-40 minutes to complete.
The IBF Cruiserweight Championship title fight between Champion, Steve 'USS' Cunningham and challenger, Tomasz 'Goral' Adamek is co-promoted by Kathy Duva's Main Events and Don King Productions
Tickets priced at $303, $153, $78, $53, $38 are on sale now and can be purchased at The Prudential Center box office or by calling TicketMaster on 201-507-8900.