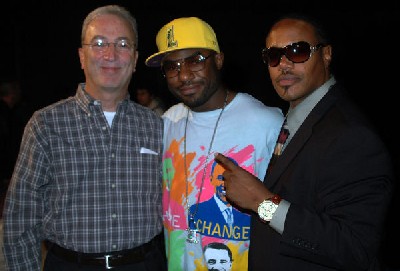 © Gianluca (Rio) Di Caro
Popular Philadelphia cruiserweight, Simon 'One Punch' Carr, announces that he is to hang up his gloves in order to concentrate on his fight promotion business.
Carr, who had a magnificent amateur career record of 40-3 (20), was heralded by many as the next superstar boxer to come from
the City of Champions when in 1996, just as he was preparing to turn professional, he was convicted of third-degree murder for shooting and killing a 13-year-old who was trying to break into his home.
After spending eight years incarcerated he returned home and not long after, in January 2006, he finally lived his dream of becoming a professional prize fighter. It took Carr just 15 seconds to dispatch his first opponent, Gary Jones, and one month later just 50 seconds more to take out his next victim, Chris Edmond.
34 days after that he was celebrating a magnificent, unanimous decision, victory over Luis Doel Santiago. It was six long months before Carr climbed back into the arena again, but when he did, he did it in style with another first round knockout of Stamford, Connecticut's Robert Irizarry.
The boxing world stood up and took notice, many started proclaiming him as a championship contender again.
A glittering career beckoned, Carr seemed invincible and then the unthinkable happened, he lost, worse still to a fellow Philly fighter, Andre Hemphill, by a very close decision, one that many felt had been given the wrong way. A rematch followed some ten months later, in August 2007, this time the judges couldn't split them and it was declared a draw.
Carr entered the ring twice this year, he fought Larry Robinson in July 2008 and last month his opponent was Anthoney Ferrante. Some very strange judging decisions added two more losses to his once excellent record.
Could this have prompted his decision to retire is a question many may ask, but Carr gives a very different reason. "This isn't a sudden decision. For quite a long while my thoughts on my future in boxing have been leaning more and more towards promoting, rather than actually fighting.
"I wavered on making the final decision, but seeing Barack Obama succeed and become President has really inspired me. If, against all the odds, he can do that, then I am sure that I can succeed and climb to the top in the promoting business if I approach it with the same commitment and determination that he did.
"Things really were not going my way as a boxer. Take my last fight, I was in the best physical shape of my life, I trained hard, had no problem making weight at all. I took it totally seriously but unfortunately it just didn't go my way.
"Boxing is an important part of my life but I'm much more than that. Fighting is only a small part of it. I always did my best, I never said I was invincible or unstoppable just that I'm a good fighter.
"I have good people that believe in me. People like the great promoter Russell Peltz, who's been like a mentor to me, hopefully he will bring me up to speed on everything I need to know so I can now concentrate on my promotional career."
With the aforementioned support of Russell Peltz as well as advice from his long time friend and former manager, Sporty Smith, Carr and his boxing promotion business, One Punch Inc., are sure to get off to a successful start.