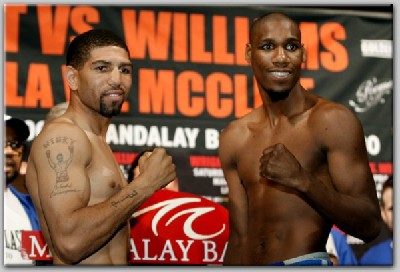 © Hoganphotos / Golden Boy Promotions
Former longtime world light middleweight champion Winky Wright dusts off the gloves for the first time in nearly two years when the 38 year old southpaw faces fellow lefty and ex-WBO Welterweight Champion Paul Williams tonight over 12 rounds at Mandalay Bay in Las Vegas.
Wright, 51-4-1 (25), has a resume to rival anyone in boxing today, winning his first title belt at light middle 13 years ago and since that time engaging in 14 major world title bouts, winning all but two majority decision losses and a controversial draw.
Throghout his long career, defensive master Wright has specialized in making opponents look bad in defeat and has had a tough time getting meaningful fights during times that he hasn't held a world title.
In his most recent outing, Wright bit off more than he could chew by stepping up to meet former world middleweight champion Bernard Hopkins at 170 pounds and losing a unanimous decision in July, 2007.
By contrast, 27 year old opponent Williams, 36-1 (27), went his first seven years as a pro before facing anyone in the top class but delivered very well once that happened, knocking off reigning WBO Welter Champ Antonio Margarito in July, 2007.
But Williams was immediately dethroned by Carlos Quintana in 2008, although he roared back to recapture the belt by first round KO just four months later.
In November of last year, Williams stopped 39 year old former world champion Verno Phillips for the interim WBO Light Middle crown and will now face the best opponent of his career.
Wright has vowed to make this an exciting fight but it's not really his nature as a cautious counterpuncher. The tempo of this bout will depend on Williams but what really will decide the outcome of this bout is just how much Wright has left in the tank at age 38 and after a two year layoff.
If Wright's skillset is still intact, he should be able to make Williams miss and counter the taller former welter champion to a unanimous decision. But, if Wright has slipped he could find it a very long night at the end of William's good jab.