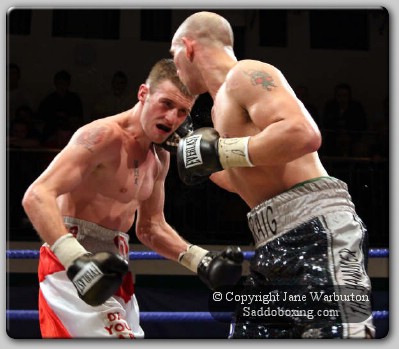 © Jane Warburton / Saddo Boxing
Welterweight John O'Donnell is the new Commonwealth Champion after dethroning Craig Watson in a riveting all-southpaw clash last night at London's historic York Hall.
As expected, Watson was on fire in the opening frame, pushing O'Donnell back but was unable to steamroll the lanky 23 year old from Shepherd's Bush.
The reigning titlist from Manchester kept up the pressure and it seemed as if he would make the bout the kind of close quarters brawl that would be to his advantage.
But the torrid pace began to take its toll on Watson, allowing O'Donnell the room to box at range and put his reach advantage to good use.
By the middle rounds O'Donnell has wrested control of the contest from Watson, who was battered before regrouping in a more measured and sustainable pace.
But O'Donnell would stay ahead for the remained of the bout, realizing his ambition to take the Commonwealth from Watson by a 114-113 twice, 113-116 split decision.
On the undercard, former British titlist Lenny Daws, 19-1-1 (7), captured the vacant English Light Welterweight belt with a 97-94 points verdict over Peter McDonagh after ten frames.
Towering heavyweight hopeful Tyson Fury, 5-0 (5), continued his promising start by thumping opponent Matthew Ellis, 20-7-1 (9), in the very first round of a scheduled six.