**With Slideshow**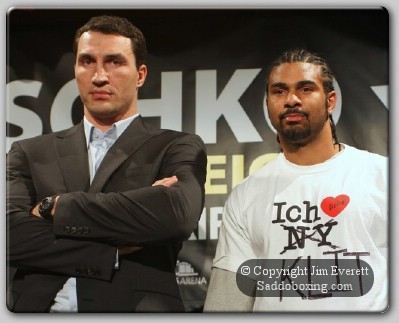 © Jim Everett / Saddo Boxing
K2 Promotions made the last stop of their press tour at BB Kings Blues Club in New York City yesterday to announce the upcoming title bout between IBF, IBO and WBO Heavyweight Champion Dr. Wladimir "Steelhammer" Klitschko 52-3 (46) against David "The Hayemaker" Haye 22-1 (21), set for June 20th at Veltins-Arena Stadium in Schalke, Germany.
The trash-talking Haye was not at a loss for words or t-shirts as he spoke to the media sporting a black t-shirt which had an image of Haye holding the decapitated heads of both Wladimir and his brother WBC Heavyweight Champion Vitali Klitschko over their lifeless bloody bodies.
During the press conference Haye later changed into a makeshift I Love NY t-shirt that he had modified. "I had to change my t-shirt this time around", said Haye "here you go, I love KLIT."
"In London a few days ago I had a different t-shirt with his and his brother's decapitated head and you could see a single tear run down his face," said Haye. "He was really upset; I don't want to put him out of the fight I want to make sure he turns out on June 20."
Haye criticized Klitschko's style as boring and sluggish, "It's been pretty sad to be honest that he hasn't been able to give the fans the entertainment that he should have been giving them. You put someone under-motivated, out of shape, fat and useless in front of me I knock them out and look pretty doing it. He hasn't done that he goes seven rounds grabbing, holding and clinching, leaning on him waiting before his opponent is completely exhausted before contemplating throwing a right hand. That's not me I come out from the first bell and I throw bombs. That's exactly what you're going to get on June 20th."
"If you look at the crowd in one of his fights they are all talking to each other, oh the guys falling over now, they give a little clap and then everyone goes home", spoke Haye about his opinion on how boring it is to watch Wladimir fight.
"This isn't going to be like that it's going to be electric, everyone knows what the UK fans are like; they go bananas and unfortunately there are going to be a lot of people wearing the t-shirts that he hates of his decapitated head and his brother", continued Haye. "I made sure that the shirts say the Hayemaker vs. Klitschko so people can wear it for his brother for the next fight after him."
The Hayemaker proudly gave his prediction of the outcome for June 20th, "There is going to be a changing of the guard, you are going to have the old 6 foot 7 heavyweight jab, jab and grab against the Hayemaker coming out there throwing bombs giving people what they are paying to see and that's excitement from the very first bell. I'm not looking to have a wrestling match, I'm not going to go out there and let him jab me in the face all night long like all the rest of the chumps he's been fighting. I'm going to go out there and force him to fight every second of every round. He doesn't like to fight."
Haye closed by looking down at the champion seated to the right of the podium, "I don't want to make him cry again, he's an intelligent guy, he's got a PhD in whatever he's got it in. My PhD is in trash talking and kicking ass. So we'll see whose PhD means a lot on June 20th. Don't blink seriously, don't go to the toilet, don't get yourself a cup of tea, don't go and get a beer, sit down and enjoy the next heavyweight sensation, David Haye the Hayemaker."
The usually stoic and professional Klitschko seemed slightly agitated by Haye's comments, "To be honest with you, I love to perform and that's why I have so many fights. I love to stay busy. I tell you this promise which David Haye said are hot words."
Klitschko provided his own prediction of the fight as he looked toward Haye, "I will make sure on June 20th with this jab, you laugh at my jab, keep laughing, you will have a good pizza face with this jab, and I will knock you out in the 12th. I hope and I wish that it will happen in the 12th, not earlier." Dr. Steelhammer looked toward his trainer Emmanuel Steward and continued, "I know you wish it will be a different way but please let me enjoy the process."
"At the press conference after the fight I will make you eat your words and the t-shirt as well. It's not funny, you think you are a great promoter; I will make you a great loser. To decapitate my family members and make fun of it throwing his dead body on the canvas it's not funny", said Klitschko. "You are trying to get under my skin, you got under my skin. I have got perfect motivation for the next training weeks and great motivation for the fight. Whatever it takes in the fight to make you lose I will do it, I promise."