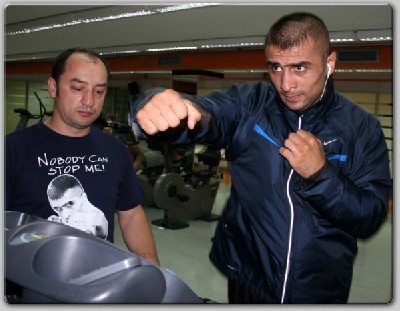 © Vedat Alyaz / ARENA
This Saturday, July 11th, WBC #2 rated welterweight Selcuk Aydin and #3 Jackson Osei Bonsu clash in a combined European championship, WBC international championship and WBC elimination bout in Istanbul, Turkey.
For his last training sessions at Agaoglu My City Hotel in Istanbul, "Mini-Tyson" Aydin has produced t-shirts for himself and his team stating "Nobody can stop me!" But Bonsu and his team have come to Istanbul to prove him wrong.
Both fighters have great records, are very powerful and come from impressive wins. Bonsu (30-2, 23 kos) beat former world champion Carlos Baldomir in December 2008 in Belgium.
Aydin (18-0, 14 kos) outworked tough veteran Said Ouali in his US debut on April 17th in Primm, Nevada.
"This promises to be a very exciting fight between two of the best welterweights in the world today", states promoter Ahmet Öner. "Whoever wins this one will go all the way to the top and be next in line for a world title shot."
"I am a fighting machine", says Aydin. "I just walk through whatever gets in my way to the top. I don't care who my opponent is, how he looks or what he has achieved in his life. When I hear the bell I am ready to destroy him to prove that I am the best fighter in the world."
"I came to Istanbul to take back what should still be mine", states Bonsu. "The European championship has been robbed from me in Poland. Now I will bring it back home to Antwerp."
In September 2008 reigning EBU champion Bonsu lost a controversial decision to Rafael Jackiewicz in Kielce .
The show starts at 9.00 pm local time at Besiktas Cola Turka Arena in Istanbul. Show TV will broadcast the fight live in Turkey.