By Gary Totten December 1st, 2011 All Boxing Interviews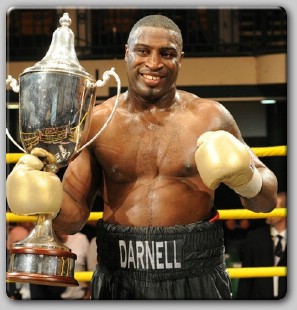 SaddoBoxing: What got you into the sport of boxing, Michael?
Michael Sprott: Muhammad Ali and my dad, who watched boxing a lot on TV and that's what drove me to want to box.
SB: Who are your biggest influences in boxing and in life?
MS: God, my son and my family in life, in boxing it is Muhammad Ali, Mike Tyson, Evander Holyfield, Thomas Hearns, Marvin Hagler, Sugar Ray Leonard and Roberto Duran
SB: What is a typical day in gym for Michael Sprott like?
MS: Running in the morning or sprints, weights at lunch time and the boxing gym in the evening
SB: When you are in between fights, do you stay in the gym or do you only train prior to an upcoming bout?
MS: I stay in the gym, doing weights, running...etc, just to stay in shape .
SB: As the former British and Commonwealth champion, you sparred hundreds of rounds with the IBF, IBO and WBO heavyweight champion Wladimir Klitschko as well as helping his brother Vitali Klitschko out at training camps in Austria and Germany as a regular sparring partner. What was it like to work with these brothers and would you like to fight any of them?
MS: It was great sparring with them and brought on my boxing a lot. They are true professional sportsmen. I would love to fight the brothers, who wouldn't? But, it would be lovely to fight for the world title, always a dream of mine and guess that goes for any fighter out there.
SB: What are your goals?
MS: My goals are to be world champion or win a version of it, like the WBO, etc...but the main one to win is the WBC version.
SB: Any plans about who your next fight will be against and when?
MS: I fight in Finland on the 3rd December against Edmond Gerber.
SB: With a record of 36-17 with 17 KO's, could you describe your boxing style and what would you say is your best punch?
MS: My best punch is my left hook .
SB: What has been your toughest fight so far in your career?
MS: Not sure, I have had so many tough fights, but if I had to give one I would say Corrie Sanders.
SB: Would you be interested in fighting Tyson Fury?
MS: Yeah, I would be interested in fighting him. I fight anyone as you know, I don't dodge anyone in boxing.
SB: Michael, did I read somewhere that you were interested in fighting in UFC/MMA fights? Can you give us details on this?
MS: Yes, that's what I said. It came about as I didn't have a fight for a while and fights kept dropping out , so I was going to take part in UFC /MMA, kind of the same thing Matt Skelton did.
SB: Is there anything you want to say to your fans and our viewers out there?
MS: I just want to thank all my fans for following my career and giving me their support, and I will be out 3rd December in Finland.
Michael Sprott, on behalf of everyone at saddoboxing.com, thank you for taking the time out to grant us this interview.
Click to read more boxing articles by Gary Totten
Discuss in Boxing Forum
---