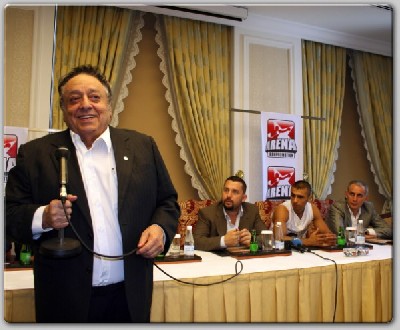 © Vedat Alyaz / ARENA
WBC President Don José Sulaiman has honoured Turkish welterweight star "Mini-Tyson" Selcuk Aydin and former European champion "Sugar" Jackson Osei Bonsu by coming all the way from Mexico to Istanbul for their combined European and WBC international championship that is also a WBC elimination bout today at Besiktas Cola Turka Arena.
"This is a very special fight – not only for the boxers bur for boxing in general as well", stated Sulaiman at Friday's press conference.
"I am convinced that Turkey can become one of the world's capitals of boxing. We are proud that an important fight like this takes place in Istanbul and we hope that many more big fights will follow.
"For Aydin and Bonsu this is the biggest chance of their lives. The winner will be the official challenger of WBC champion Andre Berto and will get the chance to fight for the world famous Green Belt."
"I am very pleased and proud that President Sulaiman is here to witness the fight", said Selcuk Aydin. "I promise that I will not disappoint him or any of my fans. This is my big chance to make it to the top of the world and I will blow away my opponent to get the title shot I deserve. Thank you for being here, Mr. President!"
At the official weigh-in right after the press conference, Aydin needed a second attempt and ten more minutes to make the limit of 147 lbs. At his first attempt he was at 147.5 lbs while "Sugar" Jackson weighed in at 146 lbs.