**With Slideshow**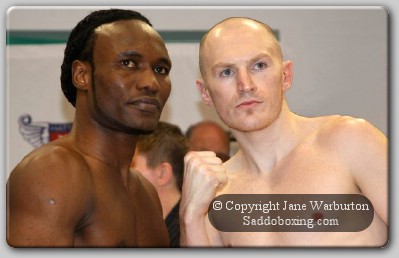 © Jane Warburton / Saddo Boxing
Yesterday at Hatton Health & Fitness Centre in Hyde, England, Hatton Promotions hosted the official weigh-in ahead of this evening's fight night staged at the Fenton Manor Sports Complex in Stoke-on-Trent, England.
It was a relaxed and friendly atmosphere in the smart new surroundings of the Hatton 'centre', where Hatton would weigh-in alongside N'Dou for the IBO welterweight title.
Hatton stepped up to the scales first - weighing in at 147 lb followed by N'Dou, who tipped the scales at 145 lb.
Both men were quiet as they posed for the usual 'face-off' photographs.
Next up, Darren McDermott of Dudley weighed in for his English middleweight title defence against Danny Butler of Bristol.
McDermott weighed 159.4 lb while Butler came in at 158.7.
Rob Norton of Stourbridge was to face Akinyemi Laleye for the defence of his Commonwealth cruiserweight title, but a last minute change of opponent sees him now meeting Ismael Abdul of Belgium, who flew in and came straight to the weigh-in this afternoon, in a six round, non-title bout.
Norton weighed 202.3 lb.
Other weigh-in results include:
Cello Renda (161.4) v Paul Samuels (163)
Gary Buckland (137.5) v Istvan Nagy (134.1)
Scott Lawton (131) v Derry Mathews (131.8)
Paul Economides (123.1) v Stephen R. Russell (123.2)
Dean Harrison (142.9) v Darren Askew (141.8)