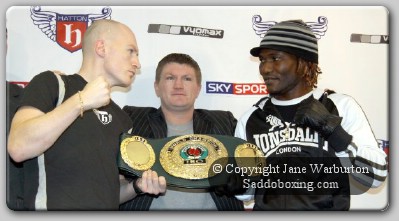 © Jane Warburton / Saddo Boxing
Ricky Hatton's younger brother, Matthew Hatton, takes on former IBF light welter titleholder Lovemore N'dou tonight at the Fenton Manor Sports Complex in Stoke, England for the IBO welterweight title.
The last us Brits would have seen of both of these fighters would have been on the undercard of the Ricky Hatton vs Juan Lazcano fight in May of last year.
N'dou fought IBF light welter champ at the time Paul Malignaggi in a rematch, losing via a split decision while Hatton faced Craig Watson for the Commonwealth welter title, losing via a unanimous decision.
Since that loss, Hatton has had four fights, one of them being Ted Bami, another, South African hardman and older brother Ricky's former victim Ben Tackie.
Hatton stopped Bami in six rounds when they fought and got the decision over Tackie. N'dou has fought twice since the second Malignaggi loss, albeit against a different class of opponent in the shape of Philip N'dou (no relation) and Kermit Cintron, losing to Cintron over twelve and getting the nod over Philip N'dou.
Hattons current record stands at 37-4-1 (14) with Tackie probably being his biggest test to date. Ricky could not put Tackie down and so Matthew was never going to but he boxed brilliantly in a career best performance, playing counter puncher when needed and mixing it up by applying pressure when needed.
Matthew Hatton is not very heavy handed; from the fights he has won he has a 38% KO ratio compared to N'dou's 65%.
N'dou's record stands at 47-11-1 (31) and as previously mentioned has been in with a higher class of opponent such as Malignaggi, Cintron, Phillip N'dou, Junior Witter, Miguel Cotto and Sharmba Mitchell, all top operators.
Moreover, if there is one thing to note about N'dou it's that he has never been stopped, and being in the ring with bangers like Cotto and Cintron it's quite safe to say that he has a solid chin.
Similarly, Hatton has a relatively good chin but he has been stopped once, early in his career, and he has not been in with the same quality of fighters as N'dou.
Hatton is probably more technically gifted than N'dou and showed a new set of skills, probably implemented by Lee Beard who happens to be Ricky's assistant trainer, when fighting Ted Bami and Ben Tackie whereas N'dou carries the power and experience.
This is a major step up in class for Hatton, in that he has never been in with a fighter like N'dou.
N'dou has been reported as saying that he will be using Matthew Hatton as a stepping-stone to Big Brother, and can see himself taking Hatton out early.
Now, it is obvious that he wants Ricky as that fight carries the big money and, if he should win, the acclaim. However, Ricky Hatton will probably not fight N'dou regardless of whether younger Hatton wins or not, as any future bout would most likely be Ricky's swansong and so would be against an opponent with a big name for big money.
Overlooking your opponent is a big mistake in any boxer's book and so Matthew Hatton could be in for the win here, especially if he boxes as well as he did against Tackie, either way it should be a good test for the younger Hatton, so lets see what he is made of.