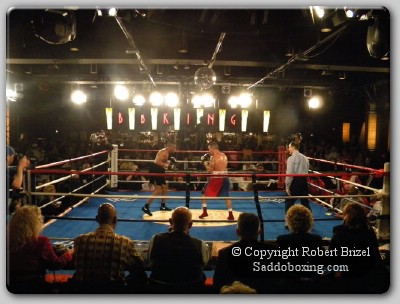 © Robert Brizel / Saddo Boxing
Shocking "Tony Zale" Style Knockout Ends Main Event at B.B. King's
In a Mexico versus Puerto Rico eight round main event at B.B. King Blues Club & Grill in New York City on Wednesday, junior welterweight underdog Leo "The Lion" Martinez, a Mexican out of Columbus, Ohio knocked out unbeaten favorite Joelo Torres of Guaynabo, Puerto Rico in the eighth and final round, for a big upset.
In a furious finish worthy of the great middleweight champion Tony Zale over sixty years ago, Martinez landed a left hand to the body followed by a right hook to the jaw that sent Torres, the crowd favorite, into dreamland for the ten count at 1:23 of round 8.
What was hoped to have been a solid challenge against a ring veteran turned into a mismatch. The mismatch occurred because Martinez 15-12 (7) had more than 25 fights coming in this bout, compared to Torres, now 11-1-1 (7).
Martinez entered the ring in a Mexican sombrero and colorful cape, though he couldn't steal the pre-fight whoopla of the Torres corner, all dressed in Puerto Rican colors of red and blue glitter.
Despite dominating Martinez with combinations in the opening two rounds, the third round began to tell the story. Martinez, a ten round fighter, began accelerating the pace against Torres, who is barely an eight round fighter and couldn't match the tempo.
In a breakout round, Martinez landed an overhand left consistently and often did damage. Unable to match either the speed or suddenly accelerated tempo, Torres endured having his face turned into a badly bruised grapefruit in less than a round.
Worse, Torres, holding his hands low, proved vulnerable to counter lefts and rights over the top. Martinez, discovering the weakness and keen to take advantage, swung wild counters, and landed them two or three times out of every five attempts.
Rounds four through seven told the same story. Near the end of every round, Torres appeared ready to go, but somehow did not fall. It came out after the bout from a source in the Torres camp that Torres wanted to quit after the fifth round, but his family in his corner refused his request.
At ringside after the bout, boxing promoter Dr. Mario Yacobi of Boxing 360 took note of the error in judgment. "This fight should have been stopped after the fifth round."
When you have a fighter taking a beating like that, you are supposed to protect your fighter and not risk serious damage by allowing him to go on. The beating which Martinez dealt Torres looked like a horrific street mugging in Juarez.
The eighth round knockout of Torres by Martinez may have ended his career, and resulted with Torres leaving the ring on a stretcher rather than on his own power.
Promoter Lou DiBella noted, "When you have a kid with more than 25 fights, you better not underestimate your opponent, and you had better be prepared for a fighter with that kind of experience." Former world champion Junior Jones stated, "When you have a fighter taking that kind of a beating, and you're the corner, you stop that fight ASAP."
In the preliminary bout to the main event, New York City junior welterweight Gabriel Bracero went to 9-0 with a six round decision over game Winston "The Rochester Reaper" Mathis of Rochester, New York.
Bracero, a technical fighter with no knockouts, would be a good future match versus Leo Martinez, who won the main event. Bracero went to war with Mathis, now 6-1 (2), for all six rounds. Mathis, who looked in great condition, made the fight interesting for the three rounds, but then slowed down, allowing Bracero to win the last three rounds on skill. Outboxed, Mathis still smiled at Bracero's best shots.
Bracero won the first, landing frequent overhand lefts in center ring to win round one. Mathis won round two by being more aggressive, landing his left jab while backing up Bracero on the ropes. Bracero was bleeding from the corner of the left eye after an accidental butt.
There was some furious fighting after the bell of round two, prompting a warning from referee Gary Rosato. The third round was even with a lot of action, and Bracero's cut still bleeding. Bracero's eye cut appeared under control after that point.
Scoring: 59-55, 59-55 and 59-55 unanimous decision for Bracero
In a six round heavyweight bout, prospect Tor Hamer of New York City went to 11-0 (9) with an unimpressive six round unanimous decision over journeyman Alexis Mejias of New York City, now 10-4 (4).
Hamer looks like a 220 pound version of Mr. Olympia, but was unable to do anything with club fighter Mejia, and got exposed. Mejia, a first round knockout victim in his last two bouts, appeared bigger than Hamer. Meija used his size to push Hamer around the ring and bully him along the ropes, and grab and hold Hamer for all six rounds. Hamer, wearing trunks emblazoned with the Penn State University logo, won every round of the fight, as Mejia had no offense.
Hamer had no plan with which to counter Mejia's bully and hold strategy. Over a hundred clinches took place in this bout. Scoring: 60-54, 60-53 and 59-53, unanimous decision for Hamer.
In a four round bout between female flyweights, Keisher McLeod-Wells, 3-1 (1), of New York City won a four round unanimous decision over Laura Gomez, 3-1, of Mexico. Wells fought a technical fight on the outside along the ropes, landing jab combinations. Gomez had a good defense, but was shorter and slower. Gomez came forward all night, but just could not chase-and therefore land-with any consistency on her taller, faster opponent.
In a junior middleweight quickie, Denis Douglin of Morganville, New Jersey, scored a first round stoppage with a barrage of body punches on helpless Chad Greenleaf of Columbus, Ohio. Douglin, 8-0 (4), had already finished Greenleaf on his feet when the referee stopped it at 1:21 of the first. Greenleaf drops to 12-15-1 (5).