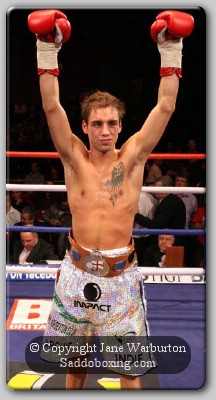 Tonight, at the Goresbrook Leisure Centre, Dagenham, England, Frank Maloney promotes an all-action fight-card which will headline the British Flyweight Title clash between Shinny Bayaar and Ashley Sexton.
Mongolian-born Bayaar won the Title by split decision when he defeated Stokes' Chris Edwards last October. This will be Bayaar's first defence of the title against Cheshunt's popular 'Flash Ash' Sexton.
With a nine win record (5 by way of knockout) and no losses – Sexton is a fast and exciting Flyweight.
Yesterday, he told SaddoBoxing, "I'm buzzing about the fight! Training has gone well and I'm ready to show every one what I can do Friday night- fighting a top class opponent. I'm ready to rip the British Title from Shinny Bayaar!"
Also, on the fight-card, Shinfield's Boxer Scott Haywood of Derby, gets a re-match against Scott Woolford of Ramsgate. The pair met in November when Haywood was stopped in round six by a bad cut to the right eyebrow (sustained in the fourth) and is looking forward to a cut-free fight this time!
But with a new baby – Haywood has had to adapt to a different routine.
"Its been real hard this time with new baby Seanna," Haywood told SaddoBoxing yesterday, "However, it's given me more to fight for now and has made me look at things differently.
"I was supposed to be on stablemate Rendall Munroe's fight-night and we had six weeks notice for that, so [because of the delay] I have had eight weeks in total to train, so I am 'flying'!
"The sleepless nights, working and training don't go together [laughs], but it's all done now and I'm looking forward to being the 'under dog' for the first time. May the best man win."
Also on tonight's bill:
Larry Oubamiwo v Colin Kenna
Akaash Bhatia v Kristian Laight
Martin Welsh v William Warburton
Tom Dallas v Lee Swaby
David Price v Daniil Peretyatko
Menay Edwards v Hari Miles
Erick Ochieng v Curtis Valentine
Lewis Pettit v Delroy Spencer