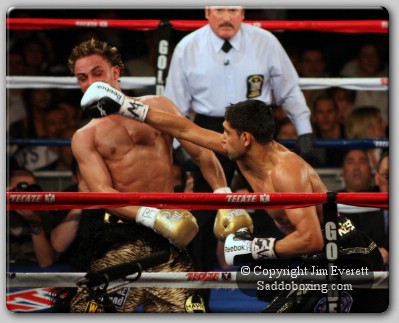 Click the above photo to view all images from this Event
Saturday night at Madison Square Garden in New York City WBA Super Lightweight Champion Amir Khan made an impressive debut in America by stopping Paulie Malignaggi at 1:25 of the eleventh round. In what started as a back and forth verbal war since their first press conference Khan made fight night a one-sided event.
During media week I looked forward to the event on Saturday, as Khan had never fought in America before television coverage on him had been somewhat limited in the States and I had only seen him fight on one or two occasions. Although he was the favorite I thought Malignaggi's speed may give him some difficulty but could not have been more off base.
Khan 23-1 (17) had impressive speed beating Malignaggi 27-4 (5) to the punch through the entire fight. Single and double jabs were rifled out with great precision leaving Malignaggi without a back up plan.
The quick talking Malignaggi did not seem to show the same speed as in previous fights most recently in his first fight against Juan Diaz. Paulie was light on his feet and moved around the ring well picking his spots but never seemed to get into the same rhythm against Khan.
As the fight progressed into the later rounds Khan maintained pressure and a high connect percentage leaving Malignaggi frustrated knowing he was behind on the scorecards. Ever the warrior Paulie pressed on refusing to quit even after a brief inspection by the ringside physician.
Paulie's bravery although respected only allowed Khan's punishment to continue until referee Steve Smoger had seen enough and halted the bout in the eleventh round.
Khan hopes to unify the super lightweight division and is willing to take on all comers while Malignaggi is left to reflect if he has become a very old twenty-nine year old.
In the super lightweight co-feature it was a similar result of a younger fighter dominating a veteran of the sport. Victor Ortiz put on a one-sided event over former champion Nate Campbell.
Ortiz 27-2-1 (21) opened the first round with a questionable knockdown of Campbell 33-6-1 (25) landing a right to his ear which knocked him off balance and forced his glove to touch the canvas.
Ortiz landed combinations well mixing up his style between standing and trading with Campbell to boxing on the outside. Although in control throughout the entire bout Ortiz appeared to tire in the later rounds with Campbell was unable to capitalize.
Ortiz won by scores of 99-90 and 100-89 twice. Although Ortiz had a strong showing he may yet not be ready for future bout with Khan.