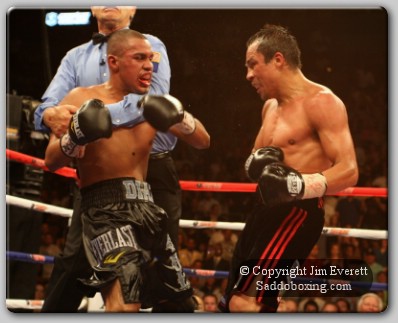 Click the above Image for more Photos from this Event
Saturday night at the Mandalay Bay Events Center in Las Vegas, Juan Diaz looked to upset Juan Manuel Marquez in their rematch of the 2009 Fight of the Year but even his new game plan was not enough against the future hall of famer Marquez.
Both fighters opened the bout with furious exchanges, landing often. Diaz utilized more of a boxing approach and had success with his jab and left hook early in the fight which began to close the right eye or Marquez by the middle rounds.
However, Marquez, ever the tactician, was able to successfully land counter punch combinations over the jab of Diaz which slowed the "Baby Bull's" approach. Marquez became the aggressor, landing vicious combinations which lead to a bad cut on the lower lip of Diaz in the late rounds.
Ever the warrior, Diaz took the best blows of Marquez, refusing to be dropped and came back with a strong exchange in the final round forcing the referee to pull him away from Marquez at the final bell.
All three judges scored in favor of Marquez; 116-112, 118-110 and 117-111.
After the fight, Marquez praised the performance of Diaz, "I am proud of my performance. Juan Diaz is a tremendous fighter. He came with a different game plan."
Marquez continued, "In the first fight, Juan Diaz came forward. He pressed the fight. He was aggressive. Diaz was thinking more this time. He boxed more. The fight was a bit more technical, and I am happy with my performance."
Michael Katsidis and Amir Khan were both on site, anxious for the outcome of the fight for a potential shot at the winner. For Marquez, the victory provides him with opportunities in both the lightweight and junior welterweight divisions.
Marquez stated, "One of my next challenges is to move up to 140 and become the first Mexican fighter in boxing history to win four titles in four divisions."
At the post fight press conference, Diaz addressed the media thanking his fans for their support, "It really touched my heart that so many people care about me as a person and boxer."
Diaz continued, "Tonight was not my night. Juan Manuel Marquez is a great fighter. He is a future Hall of Famer and it was an honor to be in the ring with him again. I had a plan to beat him, and he came well prepared.
"I'm smart enough to know that you win some you lose some. Now I am going to go home and take a long break. I trained for 11 weeks and I gave it my all. I thought I was going to come in here and win, but oh well...that's life."
In regard to the immediate future, Diaz commented, "I'm not sure what's next, I have to look at my options. I know for sure I have to take the dang LSAT on October 7. That is a given. As far as boxing, I have to sit with my family and Willie Savannah who is like my father and consider my options."