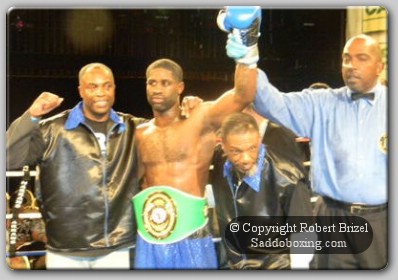 Friday night at Harrah's Hotel and Casino in Atlantic City, New Jersey, in an event by Spartan Fight Promotions, Farah 'Quiet Storm' Ennis, of Philadelphia, Pennsylvania, improved to 17-0 (11), winning the vacant NABF Super Middleweight championship with a seventh round one punch knockout of game but outmatched Victor Lares of Corpus Christi, Texas, 15-5, (4). Ennis probably did enough damage to end the career of Lares, who bravely rose from the canvas four times.
Lares did not get up from the canvas his fifth time down. The bout was a mismatch. Lares simply had no power, and even with decent counterpunching skill, the end of the bout was simply a matter of time. Ennis required utilization of his technical skills, and great patience to break down the defenses of Lares and finally finish him.
Ennis fought much of this bout with his left hand down, Roy Jones Jr. style. Moving to the left, Ennis frequently scored with left-right combinations to the body and lefts to the head. Ennis easily won the first round, with Lares coming forward as a slow plodder throwing wild counters that missed.
In the second round, Ennis kept working the body, and applied pressure. Lares lunged and missed with the right hand, scoring nothing.
In the third round, Ennis landed straight lefts to the head and body combinations. Lares got a brief rest period, however, when Ennis threw a low blow. This occurred while Lares was swinging wildly. Lares traded somewhat in exchanges along the ropes.
The turning point in the bout occurred in the fourth round. Ennis leaned to Lares and went inside to the body. Lares landed several counter lefts, but there was no power behind them. Ennis landed a straight left to the head, followed by an overhand right to the body, and a stunned Lares went to one knee for a three count. Lares took a knee under pressure from an Ennis flurry at the bell, ruled no knockdown by referee Eddie Cotton.
Lares won the fifth round, his best of the fight, a coasting round for Ennis, who backed up and didn't throw anything. Perhaps Ennis took a round off to make sure he avoided the temptation of punching himself out.
During the sixth round, a body shot caused Lares to take a knee. Lares beat the count, but was bleeding from the left eyebrow. A power right hand to the jaw by Ennis in round seven ended matters, sending Lares down and out for the count. Referee Eddie Cotton waived a halt to the bout immediately. Ennis' right hand appeared to be suspended in midair after the knockout blow. Take nothing away from Lares, though. Lares gave a gutsy, brave, determined effort, but was simply outboxed.
According to Derek Ennis, father and trainer of Farah, "Lares was taking a beating. He was bleeding from the corner of both eyes near the end of the bout."
In the post fight interview, Farah Ennis wished the bout had been stopped earlier. "The bout lasted longer than it should. This guy fought back a little bit, but took a lot of shots. The knockout blow was short and fast. I stepped to the right and threw it."
Regarding the corner, the Ennis corner was urging their fighter to put pressure to the body all night, but Farah seemed reluctant. He explained why. "The first time I pushed it, our heads kept butting, and my nose started bleeding from the butts, so was cautious coming in (from that point on). I was pacing myself for a 12 round fight because it was a tough opponent. I just didn't want to get cut. I expected he wouldn't be able to withstand my power. I listened to my corner; he (Lares) never hit me with anything. Lares was coming in with his head a little low, but he did not seem like a dirty fighter."
So why did Ennis take round five off? "I was pacing myself. Lares was a tough, durable guy. I knew I had twelve rounds to go. I didn't want to be in the same situation as Mike Jones (was against Jesus Soto Karass on the Manny Pacquiao-Antonio Margarito undercard) and punch myself out, and then have to put my situation back together from the eighth round on, something like that."
His father Derek Ennis disagreed. "You go out there and get 'em. You don't give someone like Lares a chance to get back into the bout. You get on him!"
Farah Ennis was very open about future challengers. "I'm going to the top. Whoever wants my belt let them come and get it. This is a great opportunity for greater opportunity. I'll need three defenses at most before fighting for a world title. I'll fight anybody, it doesn't matter who."
For those who recognize the names, Farah Ennis is the brother of USBA light middleweight champion Derek 'Pooh' Ennis.