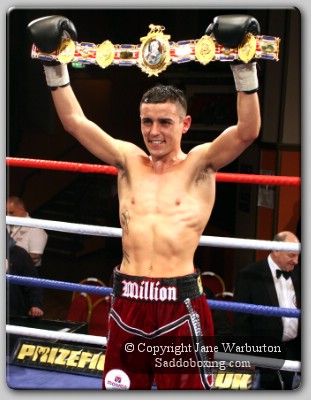 Click the above Image for more Photos from this Event
It was a lively crowd at Liverpools 'Olympia ' last night as Matchroom Sport presented a full action fightcard headlining the vacant British Lightweight Title fight between local man John Watson and Manchesters' Anthony Crolla.
John Watson (Birkenhead) v Anthony Crolla ( Manchester )
12 x 3 Vacant British Light-weight Title
Crolla – stepping up in weight - gets off to a confident start over Watson in the first. It's a better round two as the local man starts to settle in to the fight and both men trade punches.
Watson starts the third round busier but Crolla comes through strong again in the middle of the round. The Manchester man lands a decent right punch in the closing seconds but Watson comes back with a good right shot of his own – just as the bell signals the end of the round.
Watson starts the fourth strong again – targeting the body of Crolla. Both men stand toe-to-toe mid-way through the round, but it's a good round for Watson.
Watson lands a right uppercut in the first half-minute of the fifth which rocks back the head of Crolla. Mid-way through the frame and Crolla is given time to recover from a low blow much to the disapproval of the crowd!
In to the second minute and Watson is firing shots at Crolla who has to cover up. Both men slug-it-out in the final minute and the crowds cheer their appreciation of what is turning out to be a thrilling contest!
[Sky Sports Statistics reveal that Watson is throwing the more punches but Crolla has the greater success.]
Crolla lands head-shots mid-way through the sixth and Watson looks to have tired. He hangs on momentarily and, seconds later, Crolla - piling on the pressure – has Watson backed up on the ropes. He looks tired, but 'comes back' landing shots to the head and both men 'slug-it-out' again. The crowd are on their feet – roaring with appreciation!
Crolla has the better round seven – landing flush on the face of Watson but the Meadowside man keeps coming back.
It was a close round eight as both men land with shots, but in the ninth Watson takes a number of head-shots in the opening half minute. He still stands firm untill Crolla lands a right and Watson half stumbles backwards off balance.
Watson is backed up on the ropes but continues to throw punches. He takes more head shots followed by a good left in the last minute but still he remains upright! Watson is forced to edge along the ropes and Crolla lands a beauty of a right hook!
Watsons head seems to spin round and everyone gasps as his legs collapse below him. He falls heavily to the canvas and Referee Edwards immediately rushes to his side. He was tended to on the canvas by ringside medics but did get to his feet a few minutes later (it seemed like a long time at the time!)
Anthony Crolla wins the British Title by TKO in 2 minutes 35 seconds of the ninth round. Crolla improves to 20 wins (8 by KO) 2 losses, while Watson drops to 13 wins (5 by KO) 2 losses (2 by KO.
Nigel Wright (Hartlepool) v James Speight ( Exeter )
6 x 3 Lightweight Contest
Having dropped down in weight - Wright dominated this contest from the off. Speight seemed a bit 'over-keen' hence his work looked a bit untidy against the experienced Wright.
A great right to the head jolts Speight in the fifth round. Wright immediately follows it up with a neat left to the chin and Speight starts to topple as Referee Edwards steps in.
Wright wins by fifth round TKO and improves to 23 wins (10 by KO) 6 losses and 1 draw. Speight drops to 8 wins 1 loss (1 by KO).
Steve Williams ( Birkenhead ) v Paul Charlie King (Motherwell)
6 x 3 Light-Welterweight Contest
Both men start off busy, but King is caught by a decent right hook mid-way through the first which King clearly 'felt'. Seconds later Williams lands another right (not so cleanly) and King goes for the uppercut. It's been a good first round for Williams.
King throws a couple of wild swinging shots which miss their mark in the second round. With a minute of the round remaining, Williams lands a peach of a right-shot clean on the chin of King and (although standing) – he wobbles against the ropes and Referee Phil Edwards immediately stops the fight without a count.
Williams wins by second round TKO and improves to 10 wins (4 by KO) 1 loss (1 by KO), while King drops to 17 wins 3 losses (2 by KO).
Bradley Pryce (Newbridge, Wales ) v Colin Lynes (Hornchurch)
8 x 3 Welterweight Contest
Bradley Pryce of Newbridge, Wales , faced late opponent Londoner - Colin Lynes, who was stepping up to Welterweight. But, having had the disappointment of a cancelled title-fight against Sam Webb, it seemed Pryce's luck wasn't about to improve (!) as Lynes quickly got the edge over the Welshman forcing a points victory over eight rounds.
Lynes improves to 34 wins (12 by KO) 8 losses (4 by KO), while Pryce drops to 31 wins (19 by KO) 9 losses (4 by KO).
Other Results included:
Ajose Olusegan (Finchley) v Arek Malek ( Poland )
6 x 3 Light-Welterweight Contest
Olusegan wins on points and improves to 29 wins (14 by KO) while Malek drops to 10 wins (4 by KO) 35 losses (5 by KO) and 2 draws.
Davey Savage ( Glasgow ) v Dougie Curran ( Newcastle-upon-Tyne )
4 x 3 Super-Bantamweight Contest
Savage lost to Curran on points and drops to 11 wins (2 by KO) 1 loss, while Curran improves to 4 wins 5 losses (1 by KO) and 1 draw.
Steven Sharoudi (Motherwell) v Sid Razak ( Birmingham )
4 x 3 Light-Welterweight Contest
Sharoudi wins on points and improves to 3 wins (1 by KO), while Razak drops to 6 wins (2 by KO) 57 losses (3 by KO).
Jeff Evans (Talywain, Wales ) v James Tucker ( Doncaster )
4 x 3 Super-Middleweight Contest
Evans secured the points win and improves to 5 wins 1 loss and 1 draw, while Tucker drops to 3 wins (1 by KO) 33 losses (2 by KO) and 3 draws.