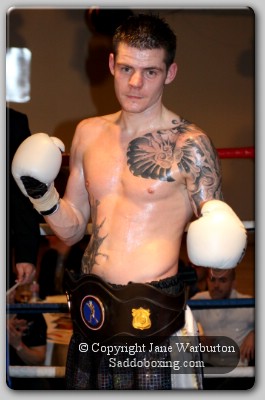 Click the above Image for more Photos by Jane Warburton
Yesterday afternoon, at the Heritage Hotel, Derby, Clifton Mitchell promoted an afternoon of boxing which headlined the vacant BBBofC Midlands Area Light Welterweight Title clash between local man Dave Ryan and Northampton's Leonard Lothian.
Dave Ryan (Derby) v Leonard Lothian (Northampton)
10 x 3 BBBofC Midlands Area Light Welterweight Title
Popular 'Rocky' Ryan had huge support from the local crowd, but Lothian had brought along his own fan-base who may have been smaller in number – but were well heard inside the Heritage Hotel !
Dropping down to Light Welterweight – Ryan seemed to take a while to settle into this title contest. He didn't look comfortable for the first few rounds, unlike 'Come-for-it' Lothian who was not going to hang about! He threw everything he had and sometimes – rather over keenly (!) – swung punches like he was going for pot-luck. It was a good round three for the Northampton man who finds his confidence and starts to land big punches. His corner look far more relaxed than the opposing team.
Lothian continues to look strong but is looking a bit sloppy. Both men gambole over to the canvas in the fifth (the first of many!). Moments later Lothian loses his gumshield (again – the first of many times!)
Both men fall over again at the start of the sixth, but it's Lothian who gets the warning for it. The Ryan supporters are starting to sound frustrated. The contest develops in to a wrestling match as the two fighters tumble to the canvas again at the start of the seventh. Lothian loses his gumshield again and he's warned by Shaun Messer "Last time!".
It's a messy round eight as both men spend much of it bouncing off one set of ropes to another. In the ninth, Ryan catches Lothian with a head shot and he struggles to keep upright, then he loses his gumshield again – but this time Referee Messer doesn't stop them as it's near the end of the round.
Both men go all out for it in the tenth and final round and it's Dave Ryan's glove that is raised aloft at the end of the fight. Ryan wins the title on a points win.
Seeing the score of 98-90 may give the impression it was an easy win for 'Rocky' Ryan but, in my opinion, this wasn't the case.
Ryan improves to 10 wins (2 by KO) and 4 losses, while Lothian drops to 10 wins 9 losses (1 by KO) and 2 draws.
Paul Frost (Derby) v Dan Carr (Trowbridge)
6 x 2 Lightweight Contest
Frost was to face Youssef Al Hamidi but a late change sees him opposite 'Dirty Dan' Carr of Trowbridge.
A good round one for the Derby man but a nasty cut above the left eyelid has to be checked by the ringside Doctor in the third. Trainer Jason Shinfield insists the cut is fine and after inspection – Frost is allowed to continue.
Both men are 'spurred on' by the cut and despite a decent round five for Frost – he is taken over to be checked by the Doctor again but fighting continues.
Frost gets the points win 58-57 and improves to 2 wins 1 loss (1 by KO) while Carr drops to 1 win 8 losses (1 by KO)
Ty Mitchell (Derby) v Lee Duncan (Sheffield)
4 x 3 Super Middleweight Contest
Southpaw, 'Hyper' Mitchell was to face Danny Goode, but another late change sees him up against tricky boxer – 'Liquorice Allsorts' Duncan (!) of the Ingles stable.
It looks to be a good match-up with these two and an interesting scrap develops. Duncan gets a warning from Referee Shaun Messer in the second and Mitchell starts to throw some wide swinging shots. A bit of a 'cat-fight' – the contest gets untidy in the third and both corners urge their charges to 'work!'.
Popular Mitchell picks it up in the fourth. Fired-up as he comes out of his corner – it's a better round for him as he puts Duncan under pressure. He's left it too late though and the Sheffield boxer gets the points decision 39-38
Duncan improves to 3 wins 5 losses (1 by KO) and 2 draws, while Prizefighter Contender – Mitchell, drops to 2 wins (1 by KO) and 1 loss
Leon Mrvik (Long Eaton) v Hayden Chick (Woking)
6 Round Middleweight Contest
Debutant Mrvik from the Shinfields gym, notched up his first pro-win against Chick.
It's an untidy fight at times but a good match-up between these two Middleweights. Chick sustains a cut high on the forehead in the third but fighting continues. Heavily tattooed Mrvik uses the left with success and gets the points victory 58-57.
Chick drops to 1 win 2 losses.