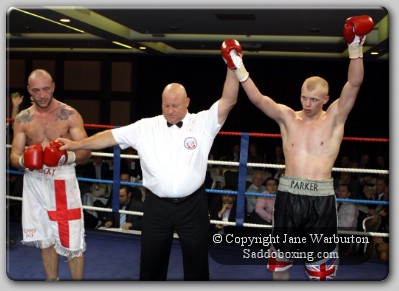 Click the above Image for more Photos from this Event
Last night, at the Holiday Inn, Birmingham, England, Pat Cowdell promoted a Dinner/Boxing event which showcased Midlands Boxers.
Billy Smith (Stourport) v Luke Gallear (Derby)
6 x 2 Welterweight Contest
Shinfield's boxer Gallear faced experienced 'Gypsy Boy' Smith in this six rounder. A good testing contest for the young Derby man, though he wouldn't have appreciated the low blow in the fifth (!) Smith had been told to 'keep them up' previously, but it seemed a bit harsh that he got a point deducted for it.
Even the Shinfield's corner shouted that it wasn't necessary (!) Still, Gallear recovered quickly and targeting Smiths head with left-shots - went on to secure a 59-55 points win.
His record improves to 3 wins 3 losses (1 by KO) and 1 draw, while Smith drops to 12 wins 90 losses (7 by KO) and 2 draws.
Jonjo Finnegan (Burton-on-Trent v Elvis Dube (Derby)
6 x 2 Light Heavyweight Contest
Burton's Finnegan had a 'bad night at the office' when he faced Shinfield's Boxer Dube. Taller, rangey, Finnegan had trouble settling in to the fight and seemed hesitant against his shorter opponent. Dube used a variety of shots throughout but found success by slipping head-shots through the middle of Finnegan's guard.
Under pressure in the fifth from more head-shots – Finnegan is sent to the canvas after Dube lands a short right hook to the chin. He gets up but Referee Shaun Messer stops the contest – deeming the Burton man to be in 'no condition to continue'.
Jubilant Dube wins by fifth round TKO and improves to 2 wins (2 by KO) 6 losses (2 by KO) while a disappointed Finnegan drops to 13 wins 6 losses (3 by KO) and 3 draws.
Duane Parker (Woodville) v Simon Fleck (Leicester)
8 x 2 Light Middleweight Contest
'Flecky' gets a low blow almost immediately after the opening bell and Parker is given a warning. Both men have a steady first round. It's a better round three for Parker who starts to settle in to the fight but it's a good match-up between these two men.
Fleck gains in confidence and starts to 'call Parker on' during the fifth. He lands a solid punch to Parker's mid-torso and it's clear that the Woodville man 'felt it'. Fleck continues to 'beckon' to his opponent but Parker isn't fazed by it. Fleck takes centre of ring and the two men edge around the ropes.
In the seventh, Fleck points to his torso as if to say to Parker 'you can hit me here if you want', he feints and throws a head-shot but Parker stays focussed – trying not to get drawn in by Fleck's antics. Not a great fight for Parker but he secures the points win 78-75.
Parker improves to 13 wins no losses, while Fleck drops to 5 wins (1 by KO) 9 losses (6 by KO) and 1 draw.