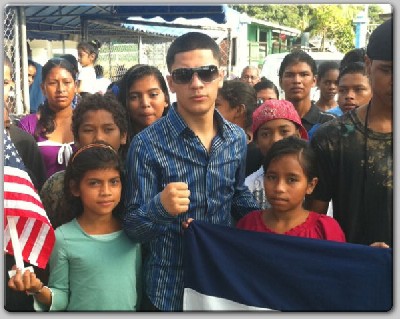 © Dominic Serna Dominicserna.com
After a 49 second knockout victory in his pro debut on March 25Th 2010, Randy Caballero had hit the professional boxing scene with both feet running.
Six consecutive victories later, already has this young fighter from Coachella Valley, California will participate as Co-Main event on Telefutura's popular Solo Boxing series March 4Th 2011. Caballero will face his eighth opponent in less then twelve months, hoping to keep his undefeated streak alive.
The fact that a young fighter who has been professional less then a year is being granted such honors speaks volumes on his abilities, yet that is far from the most impressive accomplishment on his short pro resume.
Caballero is signed with one of boxing's biggest promotional companies, Golden Boy Promotions, putting him in the company of such great champions as Juan Manuel Marquez, Abner Mares and Marcos Maidana. Randy has also served as a sparring partner for Mares and Nonito Donaire, two of the sport's most regarded fighters under 135lbs.
It would seem from what has been written thus far that Randy has had a fairly easy time heading toward the fast track of success, yet the young man is no stranger to adversity.
After a long amateur career that started when Randy was just eight years old, he knew early on that boxing was his passion. Having over 170 amateur bouts, several national title wins and a visit to Turkey where he won a bronze medal representing the United States in the Junior Olympics, shortly afterward would Randy injure his hand while training one afternoon.
That injury would require surgery to repair a damaged tendon, putting his boxing future in question. Knowing he had natural ability, knowing he was rated third best as a Junior in the world brought Randy Caballero to a tough spot. He would now have to decide, "Should I wait two years and go out for the United States Olympic team or turn professional now?"
Following a dream every young fighter has of being part of the Olympics is an opportunity hard for anyone to pass up, yet there would be a two year wait. During that time it would be possible that Randy could re-injure his hand, this time that injury could end all boxing hopes professional or otherwise in pursuing a boxing future. Yet a decision had to be made and it had to be made now!
Sitting down with his family to discuss his options, the decision was made, Randy would turn professional on March 25Th 2010 and up until now the decision has appeared to be a correct one.
Recently SaddoBoxing was able to speak with Randy about his career, where he hope the direction it takes him in and how he feels being the Co-Main event on Telefutura this up coming March 4Th. I also learned that aside from his personal aspirations, he spends time in his home gym, The Coachella Boxing Club, trying to be a role model for the younger kids of his neighborhood, influencing them to work toward positive goals in life rather than hanging out on the streets where trouble looms, even if that goal is not boxing related.
Read about what Randy had to say about those things and more, here on SaddoBoxing.
SaddoBoxing- Randy, lately your plate has been full, not only preparing for your upcoming bout March 4Th but you have been at autograph signings and even took part in a local parade. How does it feel to have so much attention so early on in your career?
Randy Caballero- It feels real good to have all the support. I am with a top promoter in Golden Boy Promotions, I have a great manager in Cameron Dunkin, who is also a big help in things, I am thankful for all that is going on. Boxing here in the Coachella Valley, California dried up for a little while but it is coming back for the better and it is great to be part of it.
SB- I read your bio on TeamCaballero.com, and your father Marco was an amateur fighter as was your older brother Robert who helped inspire you to be a boxer yourself. You started at eight years old, won several national titles and a bronze medal in Turkey when you took part in the Junior Olympics. Did those things help you at all in your transition to the pros?
RC- Definitely, all the traveling to different shows I attended, the different fighters I was able to face. I had about 170 amateur bouts, fought in Turkey representing the United States winning a Bronze medal in the Junior Olympic Games. It felt great to be ranked #3 in the world for my weight class. Those opportunities opened doors for me, I was able to spar with guys like Abner Mares and Nonito Donaire. The fact I sparred with them and held my own told me I was ready for my boxing future.
SB- You injured your hand while training about a year or so before turning pro; surgery was needed to repair a tendon, at that time you were also an Olympic team hopeful. Once healed, a decision was made to either chance another injury before waiting 2 more years for the Olympics or turn professional then. Waiting could have ended your Olympic and professional dreams, so you decided to become professional rather than wait, Are you at all disappointed you missed the chance for Olympic gold?
RC- Every young fighter that walks in a gym for the first time dreams of the Olympics. I had a hand injury that forced me to make a decision - Olympics or Professionals. If I waited I could have re injured myself before either was to happen, it was not an overnight decision by any means. I sat down with my Dad, we talked it out, weighed our choices and in the end went professional. Things have gone well and I have no regrets.
SB- You have only seven professional bouts and while you are undefeated in all seven it is still very early in your career. You are signed under the Golden Boy banner and have Cameron Dunkin as your manager, both Golden Boy and Dunkin are known for their associations with world champions. Does it add any pressure to perform not only well enough to win but maybe make you feel as if every bout has to be won in grand fashion?
RC- No, not at all it actually motivates me to train harder. I was with TKO boxing promotions for my first four bouts, the company had some troubles so during that time I had been approached by Golden Boy to fight under their banner. Since then things have really gone well for me so there is no added pressure at all, Golden Boy brings a lot of fight cards to my home in the Coachella Valley, I get plenty of extra support from my family and friends when I fight there so I love it. Fighting in front of family and friends give me that extra push.
SB- You have served as a sparring partner for both Abner Mares and Nonito Donaire. In fact you were the chief sparring partner in Donaire's camp as he prepared for his bout with Fernando Montiel. What have those experiences done for you? Have you learned from those fighters?
RC- It has benefited me a lot, especially knowing that I can get in and not just spar with them but hold my own. Abner puts a lot of pressure on you and Nonito is just so fast both with movement and his feet. Donaire is one of the greatest guys out there, he called me to help with his camp in getting ready for Montiel. I went to Las Vegas to train with him and was his chief sparring partner when camp ended. He told our manager Cameron Dunkin I had a lot of potential. I feel good after working with both of those guys.
SB- You will co-headline in Telefutura's Boxing Solo on March 4Th, a pretty big honor for a young fighter with just seven pro bouts. Does fighting on television add to the pressure of the bout at all or does it motivate you even more?
RC- It motivates me to train harder, I don't let the exposure get to me. I really do not care if I fight on TV or not, the added exposure is great for my career but I concentrate on my opponent. I was told after my first bout that I should never let things like that distract me or to ever look past anyone. I have followed that advice, my goal is to fight who is in front of me and worry about what is next afterward.
SB- You have had a pretty rugged pace thus far, this will be your eighth fight in less then twelve months. Is this pace one you expect to keep for for the foreseeable future or will you slow down soon?
RC- I should keep this pace up, after my bout on March 4TH I am already scheduled to fight again on April 1st. I love to fight and don't want to slow down anytime soon, I train hard on a daily basis so I am always in shape. My promoter and manager look out for me and know what is best. I trust them and what they have planned, I just concentrate on my opponents.
SB- Do you prepare for the fighter you are scheduled to face by doing things such as looking at tapes etc?
RC- I don't care who I fight, I don't study tapes and that I just go in prepared and in shape. I make sure I am at my best at all times doing so I am confident I will win.
SB- You are only 20 years old so it will be a while before you reach physical maturity, in the future where do you see yourself settling down at for the prime of your career?
RC- Right now I train to fight at 120lbs but I always seem to fight at a higher weight, sometimes guys are even bigger than the 126lb limit I usually fight at. My goal is to win world titles at 118lbs then move up.
SB- You have fought all over the world and you often take part on other training camps like Mares' or Donaire's like mentioned earlier. Do you still prefer training out of your hometown gym or should I say where is the main gym you train out of?
RC- I train out of the Coachella Boxing Club, there are a lot of young amateur fighters who are training there right now including my two younger brothers. I work with them quite a bit and try to teach them new things, I try to work with all the kids there when I can. I like to set and example by being a positive role model. I like to tell the kids there is more out there then just hanging on the streets where you are almost sure to get in trouble. I don't care if it is not even boxing I just like to see them do something positive rather then negative, I hope I can steer some of them toward a positive direction.
SB- Randy it has been a pleasure speaking with you, I wish you luck March 4Th, I hope in the future we can speak again maybe after you win a title or two.
RC- Thank you and would be glad to interview with you again in the future.