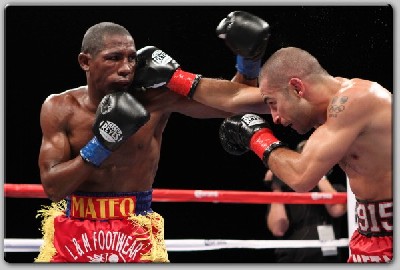 © Tom Casino / Showtime Boxing
Former flyweight and super fly world champ Vic Darchinyan finally captured a title at bantamweight, winning the vacant IBO strap against ex-IBF beltholder Yonnhy Perez at Nokia Theater in Los Angeles.
The bout kicked off with southpaw Darchinyan's opening two-fisted assault convincing Perez go on the defensive, allowing Darchinyan the space to fight his preferred style. Perez only made minor forays in going forward and as a result loses the first round badly.
In the second, Perez started aggressive but soon is back to a static high glove stance, allowing Darchinyan to bang away without worry of return fire. Soon Perez is down when the fighter's feet were tangled but it was still counted as a knockdown.
Darchinyan continued to bang away, trapping Perez on the ropes and badly battering the Colombian. Perez finally managed to get off the ropes and briefly tried boxing in the ring center.
Perez retreated again, gloves up and what saved him is that Darchinyan seemed tired. Perez started to fight back in the last minute of the second but was still backing up, allowing Darchinyan to pick his spots.
Perez was a different fighter in the third as held his ground in center ring and managed to back up Darchinyan, who then counteracted this somewhat by using his right hand to basically shove Perez back and the referee did nothing to stop the tactic.
There was good two way action as Perez was much more aggressive and as a result effective. Darchinyan was still using his right to hold and shove Perez, until he started backing up the former IBF bantam champ, scoring heavily with the left.
Perez started the fourth well before going defensive and allowing Darchinyan to stand in front and fire away. Perez did manage to back Darchinyan up at times but was still too defensive. Darchinyan mixed in body shots well and finished the round strong.
Darchinyan came out firing in the fifth and dished out a great deal of punishment. The Aussie took full control in this frame, standing on the outside and doing whatever he wanted.
Perez was cut above the left eye after a clash of heads and it appeared that he wanted no more of the fight. The ringside physician examined the wound and advised the referee to stop the bout.
Darchinyan wins the vacant IBO bantamweight crown by technical decision at 1:07 of the fifth, improving to 36-3-1 (28), while Perez's record stands at 20-2-1 (14).
On the undercard, former heavyweight title challenger DaVarryl Williamson, 27-6 (23), stopped prospect Michael Marrone, 19-3 (14), in the seventh of a scheduled ten rounder.