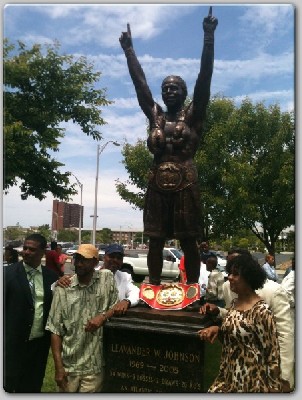 The City of Atlantic City, Hanlon Sculpture Studio, and The Leavander Johnson Foundation unveiled the Leavander Johnson statue today in Center City Park in Atlantic City during a mid-day ceremony attended by hundreds of supporters.
Among those in attendance with the Johnson family and friends, included Bernard Hopkins, Larry Hazzard, David Itskowitch, and Lou Dibella.
During the ceremony, both Hopkins and Hazzard encouraged children and everyone in attendance to look at the statue as a source of inspiration to not give up on dreams until they are achieved, citing Leavander's tremendous determination and dedication to becoming a world champion.
The long awaited statue of the late IBF World Boxing Champion Leavander Johnson was created by world renowned sculptor and New Jersey native, Brian Hanlon. The project was spearheaded by Mayor Lorenzo Langford and Councilman Marty Small.
"It's an honor to pay tribute to the 'Rocky' of Atlantic City," said Hanlon. "Leavander's tenacious desire to be champion was truly inspiring."
Leavander's father, Bill Johnson, released the following statement on behalf of the Johnson family:
"We would like to thank all of the people of Atlantic City for the love they showered on the Leavander Johnson memorial today. Thank you to the family members, friends, and world boxing community for the love they showed to Leavander, Atlantic City's native son.
"We are very appreciative to all the support and cannot express how much this day means to us. This turnout today shows us that people of Atlantic City loved Leavander as much as he loved them.
"We are impressed and grateful to the likeness that Hanlon Sculpture Studio accomplished when sculpting Leavander. Thank you very much, and God Bless you all."