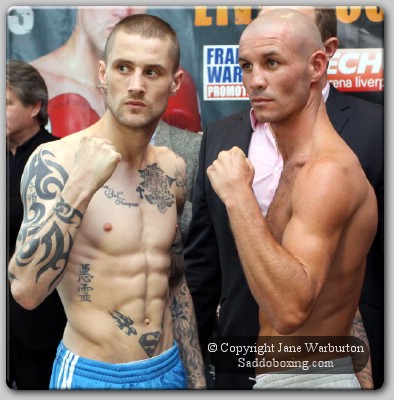 Click the above Image for more Photos from this Event
Today, at the Hilton Hotel, Liverpool, Frank Warren hosted the official weigh-in ahead of tomorrow night's mouth-watering fight-night at the Echo Arena.
The Main event sees Ricky Burns face Nicky Cook for the WBO Super-Featherweight Title and – due to the postponement of last weeks show – John Murray faces Kevin Mitchell for the vacant WBO Inter-Continental Lightweight Title.
Ricky Burns (Coatbridge, Scotland) weighed in at 9 stone 4 lbs. Nicky Cook of Dagenham, was over at the first weigh-in but came back within half an hour to weigh in at 9 stone 4 lbs.
John Murray of Manchester weighed in at 9 stone 8 lbs, while Kevin Mitchell of Dagenham, came in just half a pound heavier at 9 stone 8 and a half pounds.
Two other Title fights on Saturday sees the rematch (and two light-heavyweight Titles) between Tony Bellew of Liverpool and Ovill McKenzie of Derby. Surprisingly there were no outbursts today between these two ! A quiet, cool looking Bellew tipped the scales at 12 stone 6 and a half pounds, while McKenzie came at 12 stone 6 lbs.
And finally, Frankie Gavin (Birmingham) faces Curtis Woodhouse of Driffield, Yorkshire, for the WBO Inter-Continental Welterweight Title. There was some aggression to be seen from Frankie Gavin who tore over to Woodhouse – shoving his head against his opponents (!) The pair were kept separate after that!
Gavin weighed 10 stone 7 lbs, while Woodhouse came in at 10 stone 5 lbs.
Other weights today included:
6 x 3 Super-Middleweight Contest
Rocky Fielding: 12 stone 4 and a half
Jamie Ambler: 12 stone 8 and a half
4 x 3 Light-Heavyweight Contest
Callum Johnson: 12 stone 9 lbs
Lee Duncan: over at 12 stone 10 and a half
6 x 3 Welterweight Contest
Ronnie Heffron: 10 stone 8 lbs
Barry Jones: 10 stone 9 lbs
6 x 3 Super-Featherweight Contest
Craig Evans: 9 stone 6 lbs
Scott Moises: 9 stone 4 and a half
4 x 3 Super-Flyweight Contest
Paul Butler: 8 stone 3 and a half
Anwar Alfadli: 8 stone 4 and a half
The rest of the under-card will weigh-in tomorrow.